Saborea culinary fest returning to Carolina Public Beach, April 5-8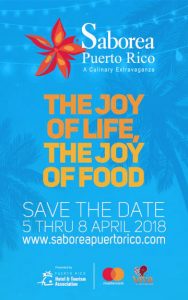 Saborea Puerto Rico: A Culinary Extravaganza, will mark its 11th edition by returning to its roots, taking the event back to where it was first held in 2008 — at the Carolina Public Beach, April 5-8, this media outlet confirmed.
This year, the Caribbean's foremost foodie gathering will be held on a reduced scale in comparison to prior editions, given the circumstances still affecting Puerto Rico five months after Hurricane María clobbered the island in September 2017.
Clarisa Jiménez, president of the event's organizer, the Puerto Rico Hotel and Tourism Association, confirmed this year's event is not expected to draw the approximately 8,000 foodies that have made their way to the Escambrón grounds in San Juan year after year.
"We have to be realistic. Yes, we expect a good number of participants, but the situation has changed. Promotion of the event outside Puerto Rico has not been possible for many reasons, but primarily because of our everything in our lives has been affected by the hurricanes. Businesses have been affected," she said.
However, the PRHTA decided to move forward with Saborea, in response to calls to make the event happen.
"I've been quite surprised about the amount of calls that we've received from outside Puerto Rico. We're still in the final negotiations with the chefs that will participate, as well as the restaurants," Jiménez said.
The event will be set up on the grassy area of the public beach, toward Piñones. The area is spacious enough for Saborea's traditional set-up of tents and seating, and has enough parking available for several hundred vehicles.
The government-run public beach has been closed since taking a beating from Hurricane María, which destroyed many of its facilities that are now being reconstructed. Jiménez said the area should be re-opened before Saborea kicks off.
Throwback to 2008
The first edition of Saborea Puerto Rico took place April 5-6, 2008 at the Carolina Public Beach, drawing more than 4,000 people and generating 1,200 room nights with an economic impact of some $2 million, according to a report published in the defunct The San Juan STAR newspaper.
Back then, renown tourism and food industry publications compared the event to the South Beach Wine & Food festival, which began with merely 400 people the first year and that now draws tens of thousands of foodies, and has raised more than $26 million for the Florida International University Chaplin School of Hospitality & Tourism Management.
Saborea Puerto Rico: A Culinary Extravaganza channels its proceeds to its Education Fund, which provides training and certifications for people in the hospitality industry.