Departing Barbados diplomat lists Caribbean concerns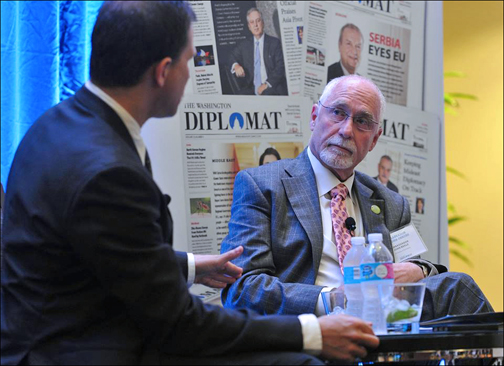 WASHINGTON — Ambassador John Beale of Barbados, who steps down today as his island's top diplomat here after six and a half years in Washington, recently answered some tough questions — ranging from the long-term impact of improving U.S.-Cuba relations on regional tourism to whether Caribbean islands are doing enough to fight international tax evasion.
Beale spoke May 4 in the third installment of the Ambassador Insider Series, a program organized by the monthly Washington Diplomat newspaper. His appearance coincides with the 50th anniversary of independence this year of an island that measures only 166 square miles yet is home to 284,000 people — making Barbados one of the world's most densely populated countries.
Because of his country's small size, Beale said he has had to be creative in grabbing the attention of lawmakers on Capitol Hill — even if it means cornering congressmen in the gym or during their 5:30 a.m. daily jogging routine.
"Some ambassadors seem to float in a different stratosphere," said Beale, whose last day in Washington is June 30. "It's possible that if you're a senator and you receive phone calls at the same time from the ambassadors of Barbados and China, you might be inclined to answer the Chinese ambassador, for obvious reasons. So you really have to take every opportunity you can."
Unlike the Dominican Republic or Jamaica, relatively expensive Barbados is not a mass-market tourism destination. Even so, in 2015, long-stay arrivals surpassed 592,000, up by nearly 14 percent from the 521,000 visitors who came in 2014. According to official statistics, Great Britain — which granted Barbados independence in 1966 — remains the leading source of tourism for the island, accounting for 218,000 visitors, or nearly 37 percent of all long-stay arrivals. The United States (with a quarter of the total) sent 148,000 tourists, representing an impressive 25 percent jump over 2014 figures.
Beale said lower global oil prices, resulting in more disposable income, had something to do with that, along with returning consumer confidence. He insisted that the Zika virus would have minimal effect on his island. Likewise, he said, a relaxation of U.S. laws on travel to Cuba wouldn't hurt Barbados in any way, because the islands don't attract similar kinds of American tourists.
Beale came to Washington in 2009 after spending 26 years in the international banking and finance sector — including 11 years at Chase Manhattan and an eight-year stint at the International Finance Corp., the private-sector arm of the World Bank. From 2003 to 2007, he headed the Barbados Private Sector Trade Team, and is considered an expert in project finance.
As such, Beale is irritated that last year, the District of Columbia included Barbados on a list of 39 tax havens worldwide — even though he said his country has done nothing wrong. The issue has taken on added prominence ever since last month's release of the so-called "Panama papers."
"Barbados is an international financial center but has nothing to do with money laundering or secret funds," he said. "Barbados has signed double-taxation agreements with the U.S., Great Britain, China and Mexico, so money doesn't sit there, it's just a conduit to a final destination."
According to published reports, Canadians alone invested nearly $40 billion last year in the world's top 10 tax haven destinations, bringing total cumulative investments to more than $270 billion. Barbados was the top Canadian destination, attracting $80 billion in total, with the number rising by 14 percent in 2015 alone — surpassing the Cayman Islands, Bermuda, Switzerland and Hong Kong.
"The two biggest tax havens are really the states of Delaware and Nevada," Beale retorted. "You can open a bank account in either Delaware or Nevada in seconds. If you tried to open an account in Barbados, it would take you a long time."
Noting that D.C. has since repealed what he called an unfair measure, Beale said it's "ironic" that in this country, state law can conflict so much with federal law.
"It is rather strange that the United States and Barbados have fine relations, but that we can get in trouble with a state that does something that's against the rules between the two countries," he said. "Imagine if D.C. had passed this law and actually gained some benefits. It might make corporations decide they no longer wanted to have offices in D.C. and would just go to Virginia. So D.C. would lose twice — with jobs and taxes."