PRASA to deploy fiber-optic network through its pipes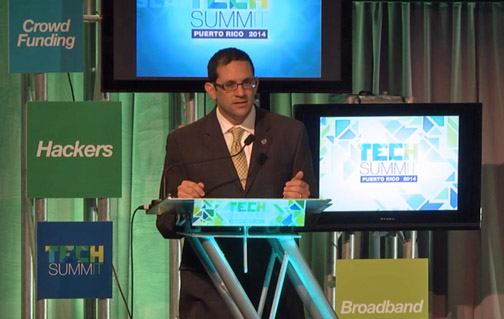 Puerto Rico Aqueduct and Sewer Authority Executive Director Alberto Lázaro announced today the start of "Zum," a project through which the agency will use its infrastructure to deploy fiber-optic technology to make interconnecting the island to high-speed broadband a reality.
The $17 million project will start before year's end, with the deployment of infrastructure between Isla Verde and Old San Juan, a sector of the metropolitan area that has historically been unable to get access to services due to the restrictions for digging up the centuries-old streets.
In this case, the installation of fiber-optic cables will be performed by robotic technology, said Lázaro, during a presentation this morning at the Puerto Rico Tech Summit taking place at the Puerto Rico Convention Center.
He confirmed that the entire Old San Juan islet will be connected in a year.
PRASA's infrastructure project is in line with the government's push to convert Puerto Rico into the so-called "Gigabit Island," through which it pursues laying down the necessary infrastructure to interconnect the territory.
Zum will provide the necessary underground infrastructure to reach virtually all homes and businesses in Puerto Rico, Lázaro said.
"That's what we call the last mile, the ability to directly reach the homes of citizens and be able to provide effective and efficient service accessible to all," he said during his presentation.
With this initiative, the corporation "becomes the engine that promotes competitiveness to spur the economy, as this technology becomes the bridge to create jobs, train and develop new business. In this way we obtain other revenues through new approaches and new business models," Lázaro said.