U.S. envoy: Haiti 'desperately needs' foreign investment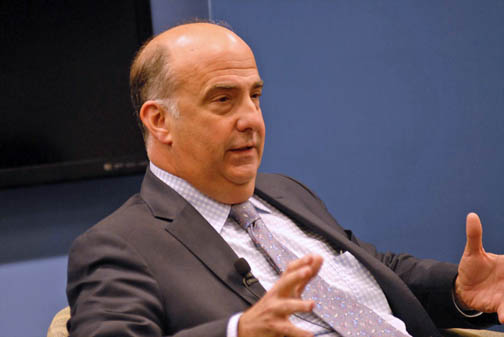 WASHINGTON — One month after Haitians went to the polls to choose a new president, Haiti's electoral council has announced the official results — triggering violent protests by supporters of Moise Jean-Charles, who finished third in the Oct. 25 election.
Banana exporter Jovenel Moise, the favorite of President Michel Martelly — who cannot run again — came in first with 33 percent, while Jude Celestin finished second with 25 percent. Since neither man won a majority, a runoff will be held Dec. 27.
The protesters accuse Martelly of rigging the election in favor of Moise, yet the U.S. special coordinator for Haiti, Kenneth Merten, refused to condemn the tainted election when asked during a Nov. 23 event in Washington why neither the White House nor the Organization of American States have issued any statements criticizing the race.
"It would be nice to see some senior person at the OAS like the secretary-general say something about the first round of elections in Haiti, [regardless of] whether things have really gone off track or if we're uncertain," said Peter Hakim, president emeritus of Inter-American Dialogue, which co-sponsored the discussion with George Washington University's Elliott School of International Affairs. "Why has the United States and the OAS been so quiet? It gives credibility to all those who question the process."
But Merten shot back that it's still simply too early to tell.
"We're in a 'damned if you do, damned if you don't' position," he said. "This is a Haitian election. We can't say the elections were great and the outcome was perfect because we don't know yet. It would be premature for us, in my view, to prejudge this election as terrific or awful until we see this process run its course."
Haiti's 10 million inhabitants are the poorest in the Western Hemisphere, with an annual per-capita income of only $824 last year, according to World Bank statistics. Haiti ranks 145th out of 169 countries in the UN Human Development Index.
"Haiti desperately needs to increase foreign investment," Merten said, noting the 7.5 percent growth likely to be achieved this year by the Dominican Republic, with which Haiti shares the island of Hispaniola. "I'm convinced Haiti can be in that position too. There's no reason for Haiti to be underperforming economically. The next government needs to make it easier for businesses to invest and create jobs and opportunities."
Pressed for details, he said Haiti must simplify the process of forming businesses.
"Haiti currently has one of the most complex and drawn-out procedures in the hemisphere. They need to develop an agency which actually has the authority to grant permits, so you don't have to go from ministry to ministry to get a thousand signatures — a one- or two-stop shop, not just for foreigners but for Haitians as well," he said.
"They could make the tax process more transparent than it is. There are a lot of things they could do to capture more revenue which they are not doing," he said, adding that the government "should also make it easier to start industrial parks or free zones."
Merten said Caracol Industrial Park, a 607-acre project along the northern coast at Cap-Haïtien, now employs 8,500 people; the goal is 60,000 jobs over a 10-year period.
"This park has been open only since 2012. We're not quite on track, but we're almost at 10,000 jobs," he said of the park, which has been widely criticized for falling short of expectations. "That's pretty good for a region that had zero employment before."
Merten served as U.S. envoy to Haiti from 2009 to 2012, a period that coincided with the January 2010 earthquake that devastated Port-au-Prince; he was then appointed ambassador to Croatia. In mid-August, the State Department named him Haiti special coordinator and deputy assistant secretary in the Bureau of Western Hemisphere Affairs.
"I've been fortunate enough to serve in Haiti three times since the late 1980s. I've been there through three coup d'etats, two hurricanes, an earthquake and three or four elections," he said. "I'm very proud of what the U.S. has done regarding Haiti over the past 30 years. We have worked very hard, sometimes using some very heavy, blunt tools, to ensure that the democratic tradition continues to live on in Haiti."
Merten added: "We would like to see Haiti more fully in charge of its own destiny, a country where people feel economically empowered. We want to make sure our partnership supports the goals of the Haitian people and the government they elect."