DirecTV Puerto Rico moves into $5M HQs in Hato Rey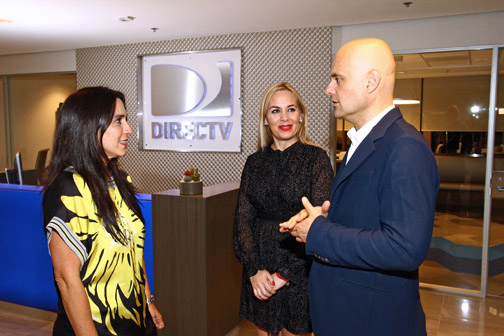 A day after announcing its participation in a $48.5 billion merger with AT&T, DirecTV unveiled Monday its new $5 million Puerto Rico headquarters, located at the heart of the Golden Mile in Hato Rey.
The paid television provider's move represents its "firm bet on its continous growth in the local market," which includes a number of initiatives this year, such as establishing a new warehouse and distribution center in Trujillo Alto.
"DIRECTV is at its best. We are the leader in the pay television industry, and we continue to grow at a very healthy rate, which fills us with enthusiasm," said Thelma López, general manager of DIRECTV Puerto Rico. "This continued growth has precisely been one of the reasons that prompted the relocation of our administrative operations and services."
"Our new facilities will enable us to provide our employees the resources they need to continue offering our customers and business partners that excellence in service," she said.
The new offices are located inside the Scotiabank building on Ponce de León Avenue, spanning 54,000 square feet over four floors. There are about 600 employees there, in the areas of administration, customer service, call center and training. Those services were previously offered at the company's offices in Carolina.
The relocation process — which coincides with the company's 15th anniversary in Puert Rico — began in September and is about 90 percent complete, company officials said. Meanwhile, the new 32,000 square foot equipment distribution center in Trujillo Alto was also recently inaugurated, offering twice the space DirecTV had prior to the move.
The merger
Although this media outlet attempted to get feedback from both DirecTV and AT&T over the potential effects of the merger on Puerto Rico operations, the information was not readily available Monday.
However, upon approving the deal, the companies issued a joint statement saying that each of their strengths will create "a unique new competitor with unprecedented capabilities in mobility, video and broadband services" that should spill over to Puerto Rico.
The combined company will be a content distribution leader across mobile, video and broadband platforms. This distribution scale will position the company to better meet consumers' future viewing and programming preferences, whether traditional pay TV, on-demand video services like Netflix or Hulu streamed over a broadband connection (mobile or fixed) or a combination of viewing preferences on any screen.
The transaction enables the combined company to offer consumers bundles that include video, high-speed broadband and mobile services using all of its sales channels — AT&T's 2,300 retail stores and thousands of authorized dealers and agents of both companies nationwide.
"This is a unique opportunity that will redefine the video entertainment industry and create a company able to offer new bundles and deliver content to consumers across multiple screens – mobile devices, TVs, laptops, cars and even airplanes. At the same time, it creates immediate and long-term value for our shareholders," said Randall Stephenson, AT&T Chairman. "DIRECTV is the best option for us because they have the premier brand in pay TV, the best content relationships, and a fast-growing Latin American business."
"DIRECTV is a great fit with AT&T and together we'll be able to enhance innovation and provide customers new competitive choices for what they want in mobile, video and broadband services," he said.
The merger is subject to approval by DIRECTV shareholders and review by the U.S. Federal Communications Commission, U.S. Department of Justice, a few U.S. states and some Latin American countries. The transaction is expected to close within approximately 12 months.
To facilitate the regulatory approval process in Latin America, AT&T intends to divest its interest in América Móvil.