González, Serrano address disparity of reimbursements to P.R. health providers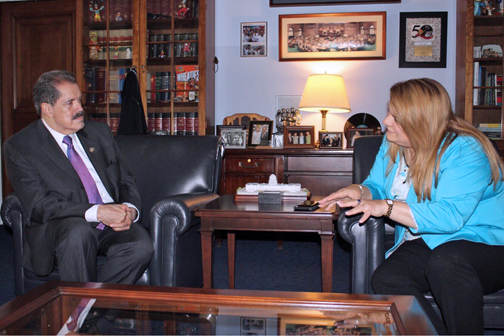 Puerto Rico's Resident Commissioner, Jenniffer González-Colón, and the Democratic congressman for New York, José Serrano, asked the U.S. Secretary of Health, Alex Azar, to address the disparity in reimbursements to health providers in Puerto Rico under the Medicare Advantage (MA) program.
In his letter, which was joined by 23 other congressmen from both parties, they urged both Azar and the Centers for Medicaid and Medicare Services (CMS) to "correct this historical disparity on the part of the federal administration toward the island, which would help reduce costly migration, curb the shortage of doctors and improve health services in general. "
On Dec. 18, 2017, González sent another letter to the CMS Administrator, Seema Verma, along with several members of Congress making this claim, which she reiterated in subsequent meetings with both Verma and with officials of the Department of Health, federal and the Trump Administration.
Now, when the U.S. Department of Health is preparing to issue its final decision on reimbursements for 2019, González reaffirmed the need to address this claim.
Puerto Rico has about 580,000 beneficiaries of MA, representing almost 75 percent of the eligible population. This represents almost double than that of any other jurisdiction in the United States. Despite the importance of this program on the Island, Puerto Rico has lost 20 percent of MA funding in the past six years.
Puerto Rico has a reimbursement rate that is 43 percent lower than the average in the United States and 26% below that received by health providers in the U.S. Virgin Islands.
"This disparity has to end if we have any hope of improving the precarious health system of the island," the lawmakers said, adding that long before the damage caused by Hurricane María, the Working Group of the Congress for Economic Growth of Puerto Rico recommended that adjustments to MA rates be considered to better reflect the needs of the island.
In addition to González and Serrano, the other congressmen who signed the letter were: Sean P. Duffy, Pete Sessions, Ileana Ros-Lehtinen, Scott Perry, Sean Patrick Maloney, Carlos Curbelo, Don Bacon, Thomas MacArthur, Brian Fitzpatrick, Rob Bishop, Peter King, Mario Diaz-Balart, Gregory Meeks, Bobby L. Rush, Luis V. Gutierrez, Joseph Crowley, Stephanie Murphy, Grace Meng, Darren Soto, Adriano Espaillat, David P. Roe and Debbie Wasserman Schultz.