AT&T donates $40K to Centros Sor Isolina Ferré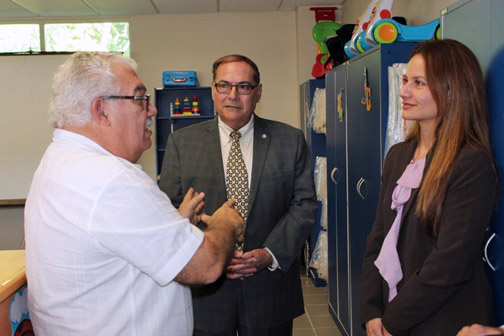 Committed to enrich and strengthen local communities, AT&T recently donated $40,000 to support Centros Sor Isolina Ferré's educational programs for high school students.
The donation will be used to partly fund the Alternative Psychosocial Academic Center (known as CAPA in Spanish), which allows students to complete their high school and develop the necessary competencies to continue studying or working.
Furthermore, young people receive coaching and support to develop skills to succeed at a personal and professional level. CAPA's alternative schools are located in Ponce, Caimito, Guayama and Villa España, a public housing complex. Currently, 257 students are enrolled in this program.
"AT&T's contribution to Centros Sor Isolina will create a supportive connection that will enable students to complete their educations," said Ray Flores, regional vice president of AT&T Puerto Rico. "The competencies that these students develop will enhance their opportunity to succeed in our global economy."
The grant will be used to cover costs related to personnel and benefits, materials and supplies and other direct expenses such as food and snacks for the students.
"This donation is received in a critical moment for one of our key educational programs. CAPA is facing right now the challenge of a 35 percent cut in public funding, so thanks to AT&T we'll be able to better manage the situation," said José Luis Díaz-Cotto, the center's CEO.
CAPA is an alternative high school program that serves students who have dropped out from the traditional public system since it was unable to provide the support and services they needed.