Doral Healthcare Finance division provides $4.5M to 2 stateside entities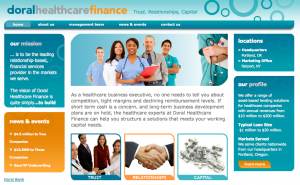 Doral Healthcare Finance announced Monday it has provided $4.5 million in working capital to healthcare companies in New York and Wisconsin.
While $3 million was granted to two companies that provide home care services based in New York, the other $1.5 million was provided to a nursing home and rehab chain with locations in Wisconsin, DHF said without disclosing the names of the companies.
"Doral Healthcare Finance continues to provide working capital facilities at affordable rates for healthcare providers across the nation. Our two newest clients have immediate growth objectives and we are pleased to be able to facilitate their expansion into new locations," said Jennifer Sheasgreen, DHF managing director.
Doral Healthcare Finance provides asset-based, working capital lines of credit to providers of goods and services in the healthcare industry nationwide, including hospitals, home healthcare agencies and long-term care facilities with financing needs from one million to $20 million.