Dulce Masa thrives as a woman-owned bakery in Puerto Rico's Florida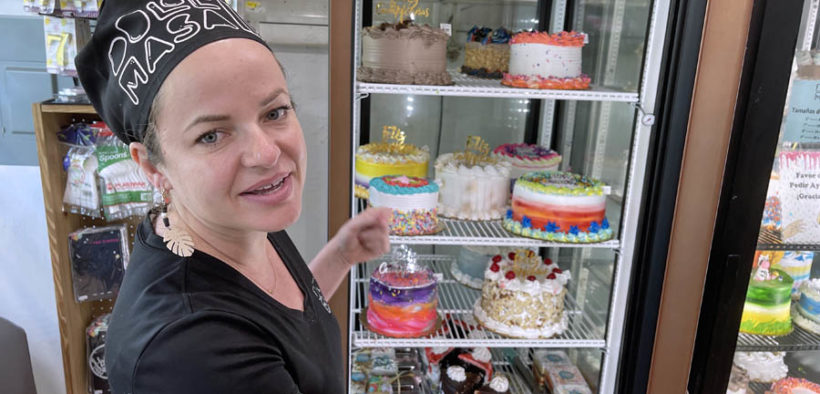 Walking through the doors of the Dulce Masa bakery in the town of Florida evokes feelings of being a Puerto Rican kid in a candy store.
The aroma of bread baking in the back, the sweet scents of quintessential Puerto Rican cakes and cookies, and the rainbow colors of the pilones (lollipops) arranged on a cart decorated with the island's flag and other typical images are all part of the experience of visiting this small, yet mighty popular establishment that welcomes visitors from all over the U.S. mainland and beyond.
Dulce Masa got its start a little over eight years ago in a 200-square-foot location on PR-140 after Brenda Rodríguez left her job of 14 years as a manager at retail chain Walgreens to join her father as a third-generation bakery shop operator.
"After I left my corporate job and upon realizing that several attempts later, my father wasn't succeeding in his bakery, I offered him the opportunity to continue his legacy through me and we could set up a small manufacturing operation to distribute the six baked goods we had, which got me started," she said, mentioning the traditional Puerto Rican treats almejitas, matahambre, ginger cookies, polvorones and mantecaditos, among them.
"We started selling those products to small grocery stores under the Dulce Masa brand. After about a year, customers would come directly to our store to buy them and would ask for other goods that we knew we could make and sell," she said. "We also began offering shipping and delivery services to our customers back then."
But shifting from a steady corporate job to a self-owned operation did come with its challenges, especially financial ones, she said.
"The money comes from your own efforts. Your company's success depends on how organized you can be. You must be disciplined and ready to handle the drastic change that comes from being an entrepreneur," she said. "But the joy is to see the acceptance of the public. We have people coming from different parts of the island and the United States to taste our products. It's an unimaginable feeling of joy."
Different from what other entrepreneurs might feel when going out on their own, Rodríguez said she felt no fear when she set out on her new venture.
"I knew our products were already accepted and I wasn't launching something new. And I knew that if I was consistent and hustled and worked hard, I was still going to make money somehow," she said, acknowledging that she was worried six months into the business, when money was not flowing in as generously as it was when she was a corporate manager.
But, with her table, a single mixer and a few family members to back her up, she persisted and evolved. Today, her store has expanded to 800 square feet, with a small seating area and several refrigerated displays.
"Now I have five ovens, nine tables, four mixers and more products," she said, adding that she has seven different production lines, namely breads, a small deli, fruit juices, hand-made ice cream, made-to-order birthday cakes, cookies and party platters.
During her time at Walgreens, she learned to appreciate employees and create a culture around serving customers well. And that call to service is evident in her shop, where she is hands-on seven days a week, and where her employees treat customers like family.
"We want people to leave here happy. And I make sure that my employees are happy. Some of them have been with me from the start, because I make sure to treat them well and share what comes in. Everything that we sell, it gets done in 14 hours a day," she said.
Of her 21 employees, only four are men, Rodríguez said, noting that women have that drive to move a business forward.
The colorful pilones are handmade.

Kenneth Cruz-Pérez puts a batch of fresh bread into the oven.

Kiaramarie Yournet-Rodríguez helps customers behind and in front of the counter.

Brenda Rodríguez makes many of the products at Dulce Masa, including fresh juices.

Yaixa Polanco-Serrano makes all of the deli items sold at Dulce Masa.

Cakes, custards and other baked goods.

A variety of typical Puerto Rican cookies.
Her beginnings and the 'magic book'
Rodríguez's experience in the bakery business began as a young child, when she worked alongside her father at his business — which he opened in 1978 — following her grandfather's recipes, which date back to 1960, when he had a shop of his own.
"Those are the same recipes we use today. We have his recipe book, which we call the 'magic book' because everything he wrote down is still intact. I say it was different ink and paper back then," the entrepreneur said.
That "magic book" now contains new recipes of baked goods that her father created, and other treats that she developed with modern twists to respond to changing times, she said.
"I've added new products that weren't available back then, partly because my grandfather didn't have access to some of the ingredients," she said. "But we cherish that book as if it were worth millions of dollars."
She has also expanded her inventory through agreements with seven local third-party suppliers — mostly also family-owned — that produce and package a variety of goodies under Dulce Masa and their own brands. Those items include liquor-flavored pilones, a donut variety called "rosquillas," glazed almonds, local artisanal cheese and some of the handmade fruit-based candies.
Because most of those products are based on natural ingredients that are quickly perishable, Dulce Masa has had to limit the items that can be sold online and shipped off-island, she said. Still, her website — launched about three years ago — has generated an "avalanche" of orders from customers stateside who yearn for a taste of home.
The future is growth
During her first year in business, when Rodríguez had seven employees — all family members — she made $70,000 in revenue. Fast-forward to 2022, when she had 21 people under her wing, and her revenue reached $1 million.
"And with the plans we have for the new property, I'm hoping that we'll create at least 20 new jobs to keep up with an increase in production and see our revenue grow even more," Rodríguez said.
That growth plan has been four years in the making, as she has been in negotiations to buy a 2,000-square-foot commercial property with 5 acres of land further down PR-140, for which she has invested $550,000. Construction is planned to start by year's end, or early 2024.
She estimates that she will need to put in another $500,000 into equipment, furniture and other items to outfit the property as she envisions it will become: a place where families can visit, eat and spend time in.
"Right now, our machine lets us make about 70 bags of a product a day. With a bigger machine and more equipment, we could boost that to 1,000 bags a day. Once that happens, I would definitely want to join other distributors, especially online, who sell their products at a larger scale," she said.
Rodríguez is also counting on the support from the Puerto Rico Tourism Co. to spread the word about the facility that she hopes will also become an experience for tourists venturing outside the San Juan metropolitan area.
"We had a visit from the head of the Tourism Co. not too long ago, and the first thing he asked is why we didn't have a location in San Juan. We told him: because we want people to visit us," she said.
So her goal is to get the government agency to incorporate Dulce Masa's future larger facilities into marketing efforts for places to visit.