Ecolift unveils state-of-the-art helicopter in Puerto Rico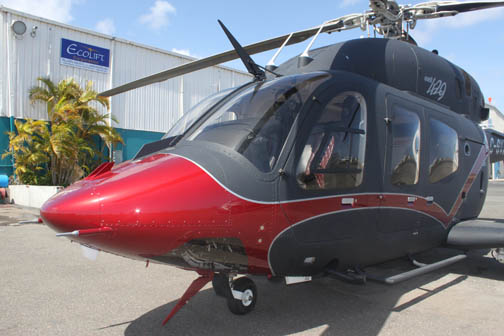 Puerto Rican helicopter sales, service and repair company, Ecolift Corp., presented Wednesday at its hangar at the Isla Grande airport its new twin-engine Bell 429 WLG model, produced by BELL Helicopter Textron.
The BELL 429 "exceeds flight safety and efficiency requirements, featuring an adaptability that allows it to stay ahead of the needs in missions to come," company officials said.
The helicopter features two Pratt & Whitney high performance engines, retractable landing gear, and a spacious cabin with the most advanced technology in flight safety systems.
"The Bell 429 WLG is one of the safest and most versatile aircraft in the world, capable of carrying up to seven passengers, to a maximum height of 20,000 feet and a maximum speed of 155 knots. The appeal of this model of the BELL 429 is that the landing gear is retractable, which improves its cruising speed, fuel efficiency and facilitates filming in airports, offering great comfort for the occupants," said Ecolift President Ernesto Di Gregorio.
The helicopter is also being marketed for corporate flights, surveillance, law and order, medical services, and when handling natural disasters, he said.
Ecolift Corp. recently restructured its operations, launching a new avionics division to offer full-service sales, modernization, design and installation of avionics equipment for all types of aircraft in the Caribbean, North, Central and South America.