GDB: Puerto Rico's economic activity up 1.0 percent YOY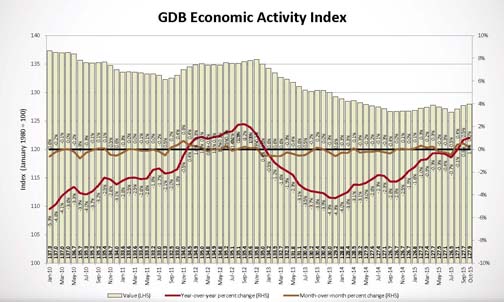 Puerto Rico's economic activity increased by 1.0 percent on a year-over-year basis in October, and reflected a month-over-month increase of 0.2 percent, according to the Government Development Bank's Economic Activity Index released Monday.
The October 2015 figure for the EAI was 127.9, an increase of 1.0 percent compared to October 2014, and a small rise of 0.2 percent compared to October 2015, the report shows. On a year-to-date basis (July-October) the EAI was 127.3, a small gain of 0.3 percent with respect to the same period of the previous year.
Puerto Rico's EAI is based on four key economic drivers: payroll employment; power generation; gas consumption; and cement sales.
The report released Monday shows that total non-farm payroll employment for October 2015 averaged 910,200, an annual increase of 0.5 percent.
The preliminary data for electric power generation for October 2015 was 1,868.9 million kWh, an annual decrease of 1.4 percent.
The preliminary number for gasoline consumption in October 2015 was 84.5 million gallons, 0.4 percent above October 2014. The GDB estimates the monthly gasoline consumption based on the Treasury Department's monthly gasoline excise tax collections paid by importers, which are transferred to the Highways and Transportation Authority.
These collections fluctuate due to changes in inventories and purchases, which do not necessarily reflect the actual monthly consumption reported by retailers, the GDB noted in the report.
Meanwhile, cement sales for October 2015 totaled 1.08 million bags, registering an annual decrease of 14.4 percent.
The GDB-EAI is an indicator of the general economic activity, not a direct measurement of the real Gross National Product. The annual growth rate of the EAI is not the same as the annual growth rate of the real GNP, the GDB noted.
"Nevertheless, notice that with some exceptions, the real GNP growth estimates coming from the EAI are relatively close [although not identical] to the actual real GNP growth figures," the GDB said.
The agency said the annual growth for Fiscal 2015 was estimated using the average of the 12 months of the index, and comparing it to the average value for Fiscal 2014.
"With Fiscal 2014 data of the GDB-EAI, the real GNP growth estimate shows a larger reduction than the actual figures published by the Planning Board, while the estimates for Fiscal 2015 would reflect a decline of 0.7 percent," the GDB explained.