eCoupons.com lists Cyber Monday sites for Puerto Rico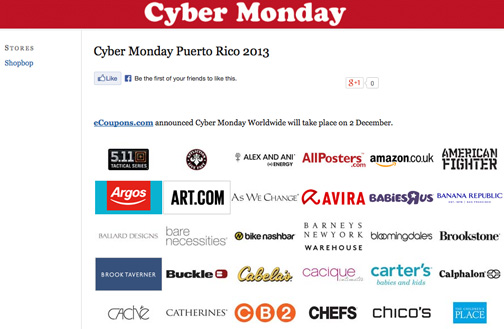 eCoupons.com, a direct marketing and technology company founded in 2002 that provides people with savings online, announced it created a directory of Cyber Monday sales to help shoppers navigate today's online sales.
The web-based company put together a list of retailers that will cater to Puerto Rico shoppers, available at http://www.cybermonday.com.pr.
Last year, nearly $1.5 billion was spent on Cyber Monday at U.S. online stores, an increase of 30 percent over the prior year. Shoppers from outside the U.S. accounted for nearly 5 percent, or $125 million, of these totals.
"International shopping is becoming increasingly popular and now shoppers in Latin America can take advantage of Black Friday and Cyber Monday sales in the U.S. and U.K.  Shoppers can browse http://www.ecoupons.com/international for a listing of more than 300 online stores that ship to more than 100 countries," said Matthew Cheng, founder of eCoupons.com
Stores that ship internationally include Amazon.com, Amazon.co.uk, Banana Republic, Gap, Macy's, Overstock.com, Shoes.com and Shopbop.com. Clothing and shoes, that often ship free, are the most popular categories.
eCoupons.com offers free electronic coupons to thousands of online and brick and mortar stores. It has been featured in the Wall Street Journal and Financial Times. Hundreds of coupons are added to eCoupons.com's database on a daily basis to help consumers buy wisely and save money.