El Josco Awards Gala to recognize Central Fla. leaders, entrepreneurs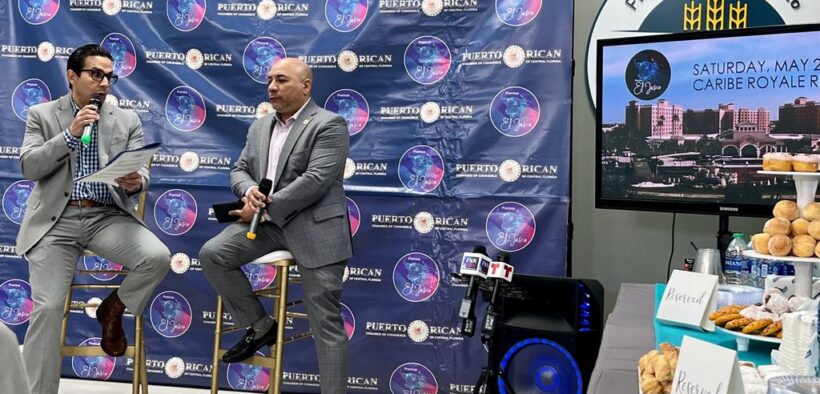 Orlando, FL — More than 65 candidates were nominated for the El Josco Awards Gala, which recognizes Puerto Rican and Hispanic entrepreneurs, community and business leaders who make a big impact in this vibrant and growing region.
The El Josco Awards Gala is the most prominent event of the Puerto Rican Chamber of Commerce of Central Florida (PRCCCF), which has more than 300 members, and was created to honor individuals who have exhibited excellence in their areas of expertise, proven leadership in a specific category, and demonstrated a commitment to the wellbeing of the entire community.
During a press conference at FL Bakery in Orlando, Luis M. Martínez, El Josco Awards chair, and Jorge H. Figueroa, PRCCCF president, explained the process and the details of this event that will take place on May 20 in Orlando.
Martínez said that, this year, the entity "was grateful to receive so many nominees of diverse nationalities that reflect this growing and diverse community."
"We have had nominees, individuals, business owners and professionals of different nationalities from the Dominican Republic, Colombia, Venezuela and Peru among other Latin American countries, and that fills us with pride because that is the vision and essence of our chamber," he said, adding that, "in previous years, we have awarded community leaders of several nationalities."
The El Josco Award was inspired by Puerto Rican author Abelardo Díaz Alfaro's story, "El Josco," an ox who represents those who stand up to challenges and adversity, persevering in the end.
The nine categories are: Communications, Education, Health, Community Service, Entrepreneurship, Professional of the Year, Small Business of the Year, Women-Owned Business of the Year, and Lifetime Achievement.
During the event, Figueroa said there is an ongoing commitment to working on programs and services that support the growth and expansion of small and medium-sized businesses in Puerto Rico and Florida.
"We are the voice of small and medium businesses, we have received new memberships recently established in Central Florida, many of them expanding their businesses from Puerto Rico to Central Florida, and from other parts of the world," Figueroa said.
"We have seen a 33% growth. I'm personally assisting various businesses in Puerto Rico, and other restaurants. We know that here in Central Florida there are close to 600,000 Puerto Ricans who are always looking for that place to eat and feel at home, and there are several well-known organizations in Puerto Rico that are expanding their businesses here because we have the audience, they have the necessary public for their businesses to grow," he said.
Rafael Román, the owner of FL Bakery Restaurant, asked how as a business owner he could help the chamber, to which Martínez replied, "by volunteering on the chamber's board and participating in the lead groups in each county."
The winners will be announced at the El Josco Awards Gala on May 20, at Caribe Royale Resort in Orlando.