EPA recognizes Martín Peña Channel Project's economic development efforts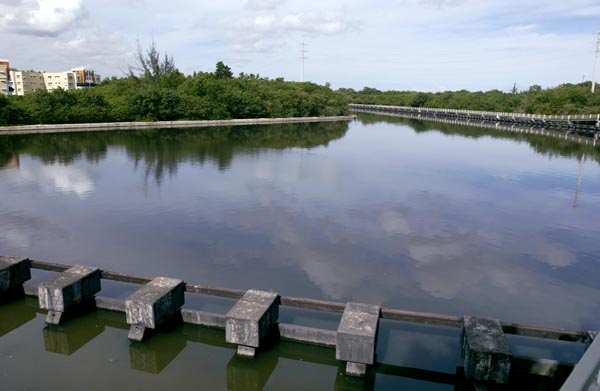 A stretch of the Martín Peña Channel in San Juan.
(Credit: © Mauricio Pascual)
The U.S. Environmental Protection Agency on Thursday presented its Environmental Justice Award for outstanding work to the ENLACE Martín Peña Channel Project, for launching a comprehensive and environmentally sustainable economic development plan for the impoverished community.
"ENLACE Martín Peña Channel has done outstanding work to build partnerships and develop a comprehensive redevelopment plan for this beleaguered canal," said EPA Regional Administrator Judith Enck. "Thanks to ENLACE's land use plan, there is a strategy to improve economic, public health and environmental conditions in the communities along the canal."
ENLACE Martín Peña Channel's mission is to rehabilitate the 3.5-mile long Martín Peña Channel located in the heart of the San Juan National Estuary and its bordering communities by building partnerships between the communities and the public and private sectors.  ENLACE's efforts comprise eight communities in the Martín Peña Channel Special Planning District that have banded together to implement a land use and comprehensive development plan to improve their social, economic and environmental conditions.
Over the years, ENLACE has led and participated in many EPA projects aimed at improving quality of life and environmental conditions in the Martín Peña communities, including partnership with the San Juan Bay Estuary Program, the agency said. The nonprofit has also joined forces with the Ponce School of Medicine, which is conducting an epidemiological study on the effects of the residents' repeated exposure to water and sediment contaminated by sewage.
Furthermore, ENLACE also provides support and guidance to Martín Peña Recycles, a community-based recycling effort run out of a formerly abandoned home that was restored and converted into a community Recycling Center.
Each year, the EPA recognizes partnerships that address local environmental justice concerns and result in positive environmental and human health benefits in communities through its National Achievements in Environmental Justice Awards program.
"The recipients of this year's environmental justice awards have developed projects that empower communities to participate in environmental decision-making and serve as models for other communities working to address environmental justice concerns," said Lisa García, senior adviser for environmental justice to EPA Administrator Lisa Jackson. "These types of community driven partnerships help advance efforts to make our most overburdened communities healthier, and more sustainable."
The accolades that ENLACE has received for its work in benefit of the channel's communities seem to balance out the difficulties it has faced over the years to remain residents of the area. The community has been waging a fight against the San Juan Municipal government for years to prevent expropriations.