EPA to hold public hearings on Arecibo waste-to-energy facility air permit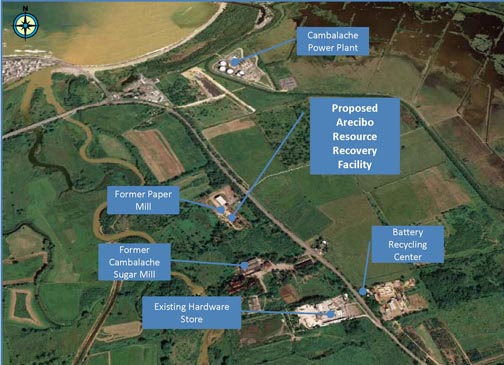 The U.S. Environmental Protection Agency has scheduled a new round of public hearing sessions to accept public comments on its proposed action to approve an air permit to Energy Answers International Inc., which has announced plans to build a $500 million, 77-megawatt waste-to-energy plant at the former site of the Global Fibers Paper Mill in Arecibo.
For this second round of hearings, the EPA is encouraging public participation and comments. The sessions will be spread over three days on Aug. 25, 26 (from 1 p.m. to 4 p.m. and 6 p.m. to 10 p.m., both days) and from 1 p.m. to 4 p.m. on Aug. 27. The hearings will all be held at the Arecibo Lions Club. People who register ahead of time will be given preference to testify for up to 10 minutes during the first two days of hearings, while those who signed up to, but were not able to, testify at previous sessions will be given a turn on the final day.
To pre-register for August 25 or 26, contact John Aponte of the EPA Caribbean Environmental Protection Division Office by email at Aponte.john@epa.gov or phone at 787-977-5853.
The EPA is proposing an air permit for the facility after evaluating the potential impact of the facility on air quality by comparing it to EPA air quality standards, which are established to protect public health.
To obtain the EPA permit, Energy Answers was required to demonstrate that the pollution controls on the plant represented the best available pollution control technology.  The proposed permit also requires Energy Answers to test the pollution it emits to the atmosphere and demonstrate that it meets the pollution limits the EPA is proposing to establish.  The permit requires emissions limits to be measured and reported to the EPA during operation.  Failure to meet any of these permit limits would subject the facility to EPA enforcement actions.