Experts discuss Cuba's emerging entrepreneurial class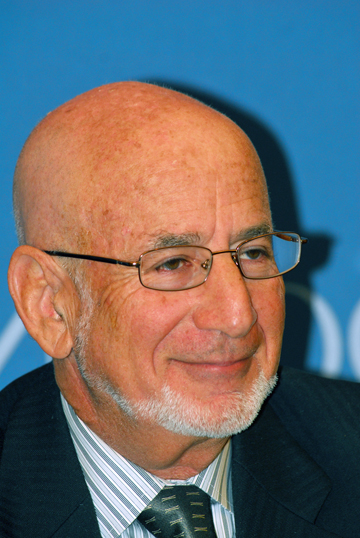 WASHINGTON, D.C. — Up to 40 percent of Cuba's labor force is already working in the private sector, making the country a largely middle-class society and discrediting the notion that Fidel and Raúl Castro must die before real economic change can occur on the island.
So argues veteran Cuba-watcher Richard E. Feinberg, a professor of international politics at the University of California-San Diego. He said 450,000 Cubans are now officially registered as self-employed (known in Spanish as cuentapropistas) in 201 authorized categories.
"Many of these people are modern, good-looking hip entrepreneurs who could be at home in Park Slope or Logan Circle," Feinberg said, naming upscale neighborhoods of Brooklyn, N.Y., and Washington, D.C.
"It's true that this group does not include those who show DVDs in their homes," said Feinberg in reference to an official decree issued in early November banning home-based DVD, video game and 3D movie salons.
"Although that was a backwards step, we should not lose sight of the general trend. In the last few months, the Cuban government has authorized a whole series of new urban cooperatives," he said. "They've announced their intention to unify exchange rates and just recently authorized the formation of wholesale agricultural markets."
Feinberg spoke during a Nov. 8 conference at Washington's Brookings Institution. The event — titled "Emerging Entrepreneurs and Middle Classes in Cuba: A Soft Landing?" — attracted some 100 economists, students, executives and government officials keenly interested in Cuba's immediate economic future.
Feinberg shared the podium with Carlos A. Saladrigas, co-founder of the Cuba Study Group, and Ted Piccone, acting vice president and director of Brookings' foreign policy program.
Middle-class society
The seminar coincided with Brookings' release of a 64-page report that documents the recent rise of Cuba's entrepreneurial class and its implications for the United States.
"Cuba is already largely a middle-class society," Feinberg said. "Together the private sector and the middle classes form the two new pillars of the Cuban economy."
He added: "An historic opportunity now beckons for the United States: it can sit passively on the sidelines, or it can actively seek to bolster reform and increase the probabilities of a gradual economic transformation, a soft landing for Cuba."
Feinberg calculates that in addition to the 450,000 officially registered cuentapropistas, Cuba has another 353,000 people working in service and credit cooperatives, as well as 172,000 land-lease farmers, 50,000 private farmers, 34,000 employees of joint ventures with foreign firms and 3,000 Cubans working in new urban cooperatives.
Added to that are another 180,000 full-time unregistered cuentapropistas, and 400,000 to 800,000 Cubans in a category Feinberg dubs GESPI (government employees who earn significant private-sector income).
Throw in an undetermined number of independent artists, migrant farmworkers and religious workers, and it comes to a grand total of 1.6 million to 2 million Cubans — nearly two-fifths of the total workforce.
"Wages are miserable — only $20 a month at the official exchange rate, so many government employees supplement their income by moonlighting in one way or another," said Feinberg, explaining this GESPI category.
"These include doctors who work in the evenings attending private patients for a fee, or construction workers who remodel homes in the evenings or weekends. That income exceeds the $20 per month they get paid in the public sector, so I consider these people to have at least one foot in the private sector."
Anywhere from 10 percent to 20 percent of all Cuban government employees are engaged in "GESPI activities," he said, explaining how he arrived at the 400,000 to 800,000 estimate.
And by 2015, Feinberg predicted, it's quite possible that between 45 percent and 50 percent of Cuba's labor force will be working in the private sector.
"That's a potent pillar for a hybrid, mixed economy," he said.
"By all measurements, Cubans are already a middle-class society," he said, noting the average Cuban has 10.2 years of schooling, and that the island scores relatively high in gender equality, economic security, rate of home ownership and social-security coverage.
"The old narrative that Fidel and Raúl have to pass from the scene before real change can occur has already been discredited by current trends," he said. "These new trends hold the key to change in Cuba."
Long list of complaints
Yet Cuba's cuentapropistas have plenty to complain about, despite their rapidly rising numbers. These gripes include a lack of bank credit, scarcity of supplies, limited retail space, petty harassment, tax disincentives to growth and the fact that many occupations are excluded from the list of 201 permitted self-employment activities — a list that was only recently expanded from 181 categories.
Feinberg has a few suggestions for the Castro regime.
"They could articulate the clear mission laid out by the soft landing: to pursue a hybrid market socialism open to the international economy. This inclusive model will seek to advance the legitimate interests of private entrepreneurs and middle classes, and remove disincentives to business expansion. They could also expand access to training programs, including international partners that build business capacity."
As for Washington, Feinberg is urging the Obama administration to help Cuba's emerging entrepreneurial class — not hurt it by continuing the 50-year-old embargo and excluding the island from international financial institutions like the World Bank and the IMF.
"Cuba will of course determine its own future, but as external actors we can strengthen the forces of progress and reduce the dangers of political violence — or we can stand in the way of progress and deny Cuba access to international markets," he said.
"Sudden regime collapse is the apparent goal of U.S. legislation, but I can tell you from my own experience that the U.S. executive branch fears this outcome and its risks, such as unpredictable violence and possibly another massive exodus of refugees.
"I suggest the United States abandon this regime breakdown scenario as unlikely and dangerous. Rather, the U.S. should embrace the soft-landing scenario as harboring the best chance for political liberalization. And the president should authorize U.S. firms to engage with independent entrepreneurs in Cuba."
Saladrigas agrees with Feinberg when it comes to the embargo.
"The sanctions regime has been in place for many years, with the objective of causing Cuba to change," he said. "Ironically, those very same sanctions have had the opposite effect. They are delaying and making it more difficult for Cuba to change."
Saladrigas, a successful Miami banker who has long challenged U.S. policy on Cuba, noted that 70-80 percent of the capital fueling the island's private sector is coming from the Cuban diaspora — mainly South Florida.
"The biggest miracle in China's economic development is the unleashing of the individual to take economic risk and seek gain through innovation and the creation of enterprises," he said. "That is what needs to happen in Cuba."
In fact, Saladrigas told the audience at Brookings, it isn't enough to think in terms of economic reforms.
"It's to create in the United States and the Cuban diaspora the political room to make a soft landing possible. Our work at the Cuba Study Group has been geared to move the diaspora from a transitional obstacle to a transitional asset. And that is happening in in-credibly significant ways, almost all of it below the radar screen."
Yet he also warned of the consequences of inaction.
"Essential to a soft landing is that there must be a landing. What Cuba cannot afford to do is become a hovercraft that hovers above without moving. Eventually, you run out of fuel and you crash."