Panel of experts offers 'wish list' for Puerto Rico growth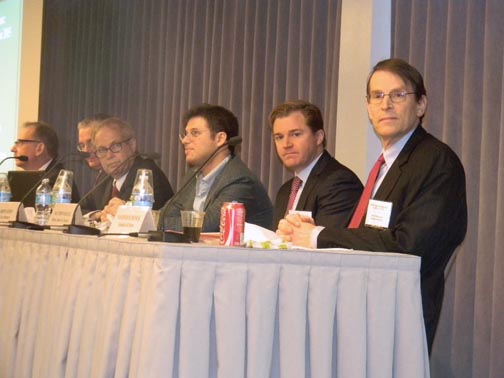 NEW YORK — A panel of experts comprising analysts, economists and financial advisors gathered in Manhattan on Friday to analyze Puerto Rico's current fiscal conditions and offer suggestions for turning the ship around in 2015, many of which require tough decisions.
Topping the list of suggestions offered by several of the panelists was biting the bullet and restructuring the Puerto Rico Electric Power Authority, and other utilities given the government's inability to bail them out for a lack of money.
"The state-owned companies in Puerto Rico are of another era," said Arturo Porzecanski, director of the International Economic Relations Program at American University's School of International Service. "These are money losing companies and things have to change. It's not a question of assigning blame, but of changing the business model and I hope that will happen in the months to come and that the government will see the necessity."
He also wished "for the government to realize that selling another $1 billion in debt at close to 9 percent interest, as has been reported, is not going to solve its issues."
"There is a lot of help that can be gotten, expertise from the U.S. Treasury, the Federal Reserve, which the Puerto Rico government can ask for," he said.
Meanwhile, Attorney Matthew D. McGill — who is representing several private companies in lawsuits against the Puerto Rico government — said the government needs to pay attention on how it's perceived in the market when it comes to honoring the rule of law.
"U.S. investment, especially in PREPA, is utterly dependent on the rule of law and if there's doubt on whether Puerto Rico is going to abide by it's own rules and contracts, the uncertainty for investors is significant," he said.
"The government needs to pay attention to how it's perceived in the market and right now you have members of Congress who are questioning them on almost a daily basis on what they're doing," said McGill, who is legal counsel to Doral Bank and Blue Mountain Capital Management in cases against the Treasury Department and PREPA.
McGill also said if the federal government opted to extend the applicability of the Chapter 9 bankruptcy protection to Puerto Rico, it would "eliminate uncertainty as to restructuring options available, at least to PREPA."
For his part, David Hitchcock, senior director in the state group at Standard & Poor's Ratings Services, said his wish for Puerto Rico would be getting the U.S. government to create exemptions on minimum wage increases, the Jones Act and extend certain tax breaks to the island.
"There are things that could be looked at that could provide money to the island. However, our rating right now does not assume any extraordinary federal support for Puerto Rico," he said, referring to S&P's current 'BB' rating of Puerto Rico's GO bonds.
However, he noted that because Puerto Rico's Resident Commissioner in Washington D.C., Pedro Pierluisi, belongs to the statehood New Progressive Party, "I don't expect him to introduce legislation to treat Puerto Rico differently from a state."
For his part, Charles Blitzer, principal of Blitzer Consulting, said Puerto Rico could benefit from receiving assistance to fix its statistics, which he said "are a mess."
"They need assistance in redoing the books and presenting them in a form that would be more effective in showing their case to a wider investor base," Blitzer said. "It would help enormously for the Puerto Rico government to hear the experience of other countries."
Friday's panel, titled "Puerto Rico: Scenarios for 2015," was organized by the EMTA, a trade association that focuses on emerging market issues.