Famous Dave's BBQ franchise to open April 22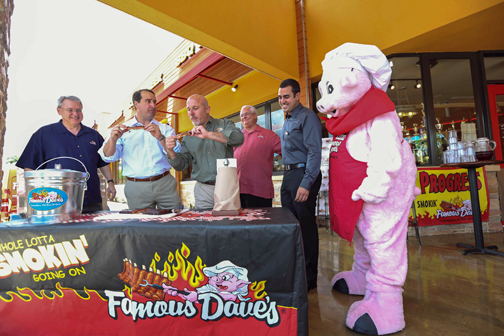 The authentic taste of down-home barbeque ribs and fixings will arrive to Puerto Rico in less than a week, when the first Famous Dave's restaurant will officially open for business in Plaza Escorial in Carolina.
Restaurant officials were on hand Wednesday to offer a preview of the menu to members of the media ahead of the official April 22 opening. The restaurant, which was built at a cost of approximately $2 million, spans 6,800 square feet that are split between a bar, a dining room that sits 225 customers, and a separate area for private events.
"In our search for franchises that could suit Puerto Rican tastes, we found a sure winner in Famous Dave's because they are number one within the BBQ segment," said Jorge Colón-Gerena, CEO of Famous Dave's Puerto Rico.
"Not only will people who visit Famous Dave's be able to try the most awarded ribs in America, they will be able to enjoy the experience of eating at a family restaurant with a fun and casual atmosphere," said Colon-Gerena.
The opening of the restaurant comes about 14 months after Colón-Gerena announced plans to bring the popular eatery to the island. It will generate 250 jobs. A second Famous Dave's is slated to open in Bayamón by year's end.
During Wednesday's meet-and-greet, Steve Pierce, director of franchice operations for Famous Dave's said the expansion to Puerto Rico was "highly anticipated."
"We've been anticipating this moment for some time. We have been looking to expand our franchise outside the continental U.S. and Puerto Rico has just made that possible," said Pierce.
Famous Dave's barbeque features award-winning hickory smoked St. Louis style spare ribs, Texas beef brisket, Georgia chopped pork and variety of Famous Dave's signature BBQ sauces that represent various regional barbeque flavors. Its menu also includes barbeque and country roasted chicken, BBQ sandwiches, burger and salads, as well as homemade side dishes and homestyle desserts.
"The key to getting Famous Dave's BBQ meat to cook to perfection and have that smoky taste is the special oven installed in each restaurant. This oven works with wood only and does not feed on any fuel," said Amelia Fitch, executive chef of Famous Dave's Puerto Rico.
The first Famous Dave's restaurant opened in Wisconsin in 1994 and as of December 2012, the chain had 188 restaurants across the U.S. mainland and Canada.