FirstBank partners with P.R. Convention Center for customer discounts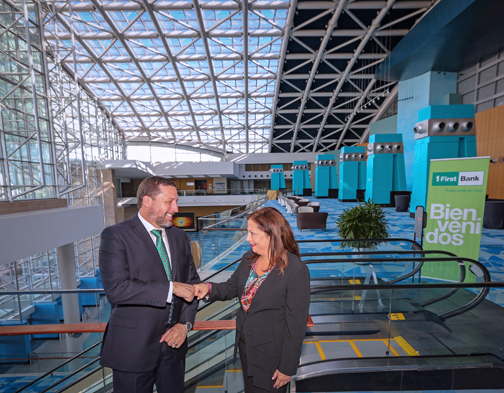 FirstBank, the second leading financial institution of Puerto Rico, is reasserting its commitment to the island's economic growth by formalizing a strategic alliance with the largest and most technologically advanced meeting complex in the Caribbean, the Puerto Rico Convention Center.
Through this alliance, the more than 500,000 FirstBank customers have the opportunity to receive discounts when visiting the Convention Center's premises. Some benefits include a 20 percent discount at concession stands and a special rate of $6 (per vehicle) for parking whenever they pay with their debit or credit cards from FirstBank.
"At FirstBank, we are certain that the Convention Center has a positive impact on the economic growth of our island. We're very optimistic about the development of the Convention Center District and the opportunities that will be ushered in with the inauguration of entertainment at District Live! in 2019," said Ginoris López-Lay, FirstBank's executive vice-president and director of strategic management.
"For us, this is a unique opportunity to be part of the range of services and entertainment offered to the participants and visitors, and an opportunity from which our customers can also benefit," she said.
Since its opening at the end of 2005, the Convention Center — with a capacity of 580,000 square feet between its exhibition rooms and meeting spaces — has hosted more than 6,000 events and 3,000 groups.
"We stand by our decision to strengthen our relationships with local and international customers, such as this alliance with FirstBank. FirstBank and AEG Facilities are committed to developing and strengthening Puerto Rico's economic growth," said Jorge L. Pérez, general manager of the Puerto Rico Convention Center.