FirstBank focuses on growing deposits, expanding technology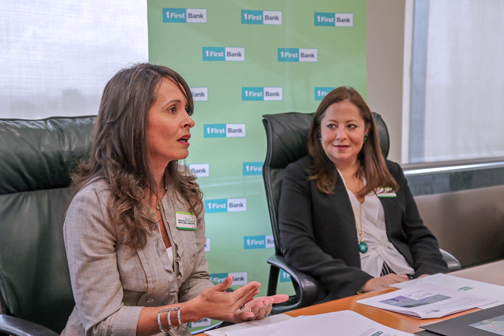 In a market where population is steadily declining, the economy has contracted and the fiscal situation has been in a downward spiral, it has become a challenge for financial institutions to keep their deposit levels growing.
But at FirstBank, a combination of strategies has resulted in growth, with deposits reaching $47.6 billion in the fourth quarter of 2017, from $39.6 billion in the same quarter in 2014, a figure that excludes brokered deposits, said Ginoris López-Lay, FirstBank's executive vice president and strategic management and retail banking director.
As of the fourth quarter of 2017, FirstBank remained the second largest depository institution among commercial banks in Puerto Rico in terms of net of brokered deposits, with $5.3 billion and 11.2 percent market share, she added.
"We have evolved and moved away from brokered deposits, which now represent a minimal portion of our deposits," she said. "We've spent the better part of the last six to seven years focusing on deposits."
During the same period, FirstBank's branch market share reached 15.8 percent, from 11.8 percent as of the last quarter of 2014, in line with the bank's core deposit growth strategy, she said.
ATM's, excluding third party alliances in the market, decreased by 94 or 8.7 percent, while FirstBank increased by 15, or 12.6 percent, since the third quarter in 2014. At the end of 2016, FirstBank expanded its ATM network with a third party alliance, resulting in 83 additional ATMs as of the third quarter of 2017.
Meanwhile, debit card growth also reflected a positive trend for the market, when comparing the third quarter of 2017 vs. the third quarter of 2014, there was an increase of 315,000 or 9.2 percent; FirstBank increased 112,000, or 45 percent, she said.
To keep its momentum going, the institution will be introducing four programs to enhance customer service, said Michelle Santiago, FirstBank's vice president and product manager.
First up is the "Cuenta Perfecta" checking account, a mass campaign that will launch March 16 to offer customers a low cost, interest bearing account to manage day-to-day transactions. The campaign features FirstBank spokeswoman Mónica Puig, who will tout the benefits of an account designed for customers that receive direct deposit or maintain average balances of $500 or more
Also on deck is the migration of Visa Debit cards to chip technology during the second quarter of 2018 to provide customers with enhanced security for point-of-sale and ATM transactions that use chip technology. In addition, debit cards have been redesigned, and customers will be able to select and change their PIN by telephone via the interactive voice recognition service, she said.
The migration will apply to Visa Debit and Visa Business cards for Puerto Rico and the Eastern Caribbean region, which includes the U.S. Virgin Islands, and the British Virgin Islands. The conversion will start next month and should be completed by late June or early July, Santiago said.
In line with the bank's objective of providing enhanced services to support the growth of the small business and professional segment, FirstBank's commercial "DBA" customers will now be able to enroll in the standard online banking service, free of charge, executives said.
Customers will benefit from online banking services that include account and balance information, transfers to and from their accounts and lines of credit, transfer to other FirstBank accounts, bill payment, and exporting transactions to MS Money, Quicken, Quickbooks or Excel.
The account does not charge a monthly fee, to benefit from low cost, day-today deposit transaction management, executives added.
Finally, FirstBank will promote an IRA campaign focusing on the tax relief and long term savings for retirement benefits.
"IRA savings component takes greater relevance after Hurricanes Irma and María, since IRAs are a mechanism for long-term and emergency savings, not only for retirement, but for qualified events such as purchase of first principal residence, children's college education, and natural disasters," López-Lay said.