FirstBank awards 'FirstOro' grants to athletic kids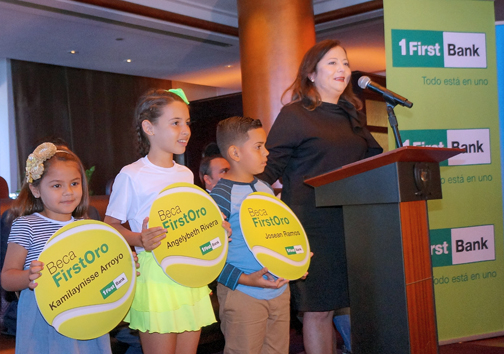 FirstBank, in partnership with the Puerto Rico Tennis Association on Thursday awarded three "FirstOro" grants to three children ages six to nine showing academic achievement, athletic skills and development potential in sports.
Josean Ramos from San Sebastián, Angelybeth Rivera from Guayama and Kamilaynisse Arroyo from Ponce received the awards during the press conference held for the first "Mónica Puig Invitational," a friendly tennis match between the Puerto Rican Olympic gold medalist and former number one-ranked María Sharapova.
"The gold medal that Monica obtained in her recent participation in the Olympics, served as an inspiration to give these scholarships to children who excel in the sport, so that they can prepare to compete and win," said Ginoris López-Lay, executive vice president and director of strategic management at FirstBank.
"The FirstOro scholarship is part of our commitment to help the communities we serve through programs that contribute to improving their quality of life and development," she said.