FirstBank grants $2.7M, SBA-backed loan to Autos de Cayey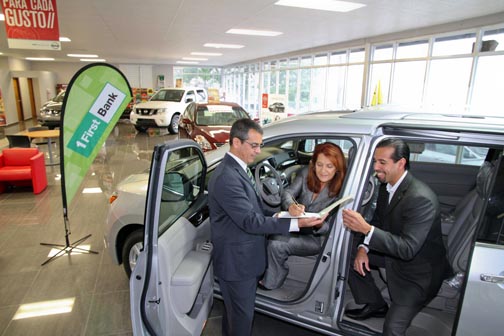 With the goal of providing a new financing alternative to car dealers, FirstBank approved a $2.7 million "floor plan" loan secured by the Small Business Administration to Autos de Cayey Inc., the bank announced Tuesday.
Floor plan financing is a revolving line of credit that allows the borrower to obtain financing for retail goods, the SBA states. Dealers may borrow against retail inventory and repay the debt as they sell their inventory. They may borrow against the line of credit to add new inventory.
FirstBank split the financing into two credit lines amounting to $2.5 million, and two smaller credit lines of $100,000 each for operating capital and other expenses. The financing enabled Autos de Cayey to create five new direct jobs.
"This is a new financing alternative available to our dealers and prospective customers," said Eduardo Ortíz, vice president of FirstBank's Floor Plan division. "This way, we facilitate access to financing and more favorable terms to new and existing businesses."
Autos de Cayey began selling used cars in 2007 and subsequently, in May 2009, expanded its operation to include the Nissan line in its portfolio.