FirstBank grants $664K loan to Presbyterian Academy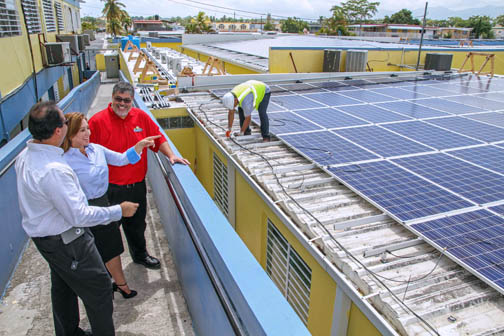 FirstBank announced Wednesday it has granted a $664,112.00 loan to Presbyterian Academy, an educational institution in Carolina, for the purchase and installation of a photovoltaic system on its main buildings, which will reduce the it's electricity expenses.
AZ Energy LLC designed the system for the Academy's main buildings and AIREKO Energy carried out the rooftop installation. It consists of 904 photovoltaic modules of 260 watts each and 12 inverters, with an estimated production of 349.738 kWh during the first year.
"As a company with expertise in energy efficiency studies, design, installation and compliance with renewable energy permits requirements, we are pleased to have completed the photovoltaic system installation at the Presbyterian Academy, which will result in considerable savings of about 90 percent on their electricity expenses," said Ángel Zayas-Duchesne, from AZ Energy LLC.
AZ Energy LLC employs trained engineers and certified professionals with more than eight years of experience in the renewable energy field, performing energy efficiency studies and working on compliance with permit requirements for interfacing with the Puerto Rico Electric Power Authority.
"The installation of solar panels on several buildings of the Presbyterian Academy, in Carolina, responds to the need to cut back on their second-highest operating expense. For us at FirstBank, providing funding to promote renewable energy projects is another way to contribute to the improvement and conservation of the environment," said Carmen Sánchez, assistant vice president, at FirstBank's Business Banking.
Meanwhile, Reverend Cruz Negrón, director for Presbyterian Academy, said "FirstBank's financing for the purchase of our photovoltaic system, together with the incentives provided by the Puerto Rico Green Energy Fund, will enable us to achieve significant savings in our electricity bill, while meeting the energy needs of our main premises."
Established 37 years ago in the Municipality of Carolina, the Presbyterian Academy offers high-level education to students from pre-kindergarten through 12 grade.