FirstBank, Habitat for Humanity restore 4 homes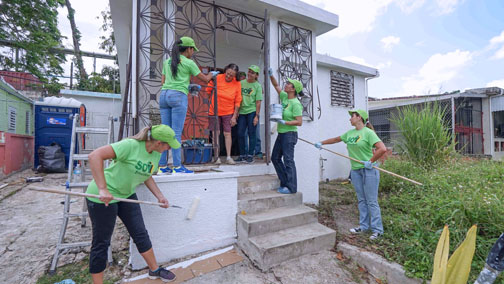 As part of a commitment to families in need of having their homes restored, FirstBank delivered a $13,000 donation to Habitat for Humanity of Puerto Rico for the completion of the second phase of the "Un Toque de Cariño" (A Touch of Love) program.
This time, four families will benefit comprising women who are elderly and/or heads of family, with residences in the neighborhoods of Las Monjas in Barrio Obrero, Caimito, and Reparto Metropolitano.
"Un Toque de Cariño" is a special program that works with families in need to help them make essential, non-cosmetic repairs to their homes.
"During this second phase in the metropolitan area, the City of San Juan referred families and provided some of the materials, and the families were evaluated by our selection committee," said Amanda Silva, executive director of Habitat for Humanity of Puerto Rico.
"At the same time, each family participates in the restoration of their home, contributing hours of work in the improvements, so we are promoting self-sufficiency rather than paternalism," she said.
"We know of many families who lack the economic resources to make needed improvements to their homes in order to live in adequate conditions. Our partnership with Habitat for Humanity of Puerto Rico and its special project, 'Un Toque de Cariño' —designed to restore the homes of people in need — allows us to contribute with our help and our employees' volunteer time so that these families can live under better conditions," said Catherine Ríos, community reinvestment officer at FirstBank.
During these months, Habitat for Humanity of Puerto Rico will work in the restoration of four family homes, with the help of volunteers and donated materials.
"The goal is to complete each of these Un Toque de Cariño projects in one month, thanks to contributions by FirstBank and volunteers, among them employees of FirstBank. Starbucks also committed to the project by donating materials," Silva said.
"At Habitat for Humanity of Puerto Rico we hope to continue supporting the population with limited resources who own their homes but do not have the money to maintain them in safe condition. We hope to continue working with the need for adequate housing on the island," Silva concluded.