FirstBank partners with Yauco nonprofit for workshops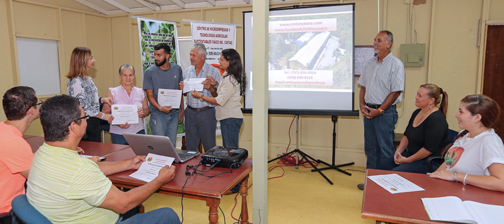 FirstBank recently joined the Center for Sustainable Agricultural Microenterprises and Technologies Yauco Inc. to offer a food safety training workshop to 25 participants interested in developing their agricultural microenterprise in Puerto Rico's southeastern region.
The training workshop for community microentrepreneurs consisted of 10 contact hours, during which they were given up-to-date theoretical tools, along with an exam on the course to help them earn the Food Safety Certificate offered by Servsafe of the National Restaurant Association.
This certificate is required by the Puerto Rico Department of Health and must be renewed every three years.
"At FirstBank, we're genuinely committed to the economic development of our country, which is why we support community microenterprises," said Catherine Ríos, Community Reinvestment and Compliance Officer at FirstBank. "We believe it is very important to get involved in initiatives that support their growth and strength."
The Center for Sustainable Agricultural Microenterprises and Technologies Yauco Inc. has offered educational services in sustainable agriculture with a focus on self-employment and entrepreneurship since 2010.
The organization has a multi-sectorial alliance among bona fide farmers; volunteer agronomists from the southeastern area; the School of Agricultural Sciences of the University of Puerto Rico, Mayagüez campus; the Municipality of Yauco; and Universidad Politécnica de Nicaragua.
"Studies conducted in the United States show that half of fatal episodes occur due to food allergens," said Wanda Santiago, director of the Yauco-based group.
"We appreciate FirstBank's interest in helping us offer this workshop, which will give microentrepreneurs in our communities the tools to engage in responsible practices when preparing and serving their food," she said.