FirstBank launches redesign for 1firstbank.com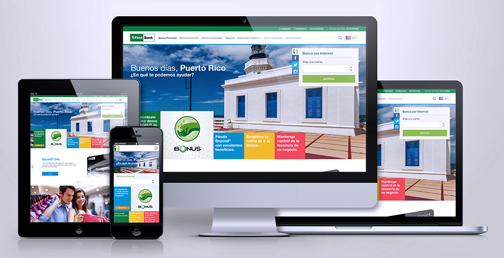 FirstBank and local digital agency, KIS, recently relaunched the bank's corporate webpage designed to respond to a customer base that is increasingly accessing the web via mobile devices.
The page, which took 18 months to redesign, offers customers in Puerto Rico, the U.S. Virgin Islands and Florida, a new experience based on FirstBank's slogan, "atendemos a nuestros clientes como si el banco fuera de cada uno" ("we serve our customers as if the bank belongs to each one") and will respond to consumer behavior, by providing optimized access to their information from any device.
"Driven by our philosophy of excellence in personalized service, we seek to offer our customers a straightforward, intuitive and powerful digital experience. The tone and language integrated to the modern design, the use of beautiful local landscapes, adapted to the actual time in each region and the treatment of the colors linked to our brand, complement this website," said Antonio Pertiñez, senior vice president of marketing and public relations at FirstBank.
The new design distinguishes itself by providing a special experience and personalized service, while providing solutions to the user, he said.
"Our website was developed with the innovative responsive design philosophy, that allows the user to adjust the screen display to any size, to show the most relevant and important information for the consumer's convenience," Pertiñez added.
Currently, FirstBank ranks second among users who access banking institutions' web pages, according to Alexa Top Sites in Puerto Rico. With an investment of more than $1 million dollars, the new portal was designed by a group of 10 professionals at KIS digital agency.
Upon entering www.1firstbank.com, customers and users will be greeted by their name with a personal message, "Good morning, José! How can we help?" next to the social networks feed. From there on, the browsing experience will adjust to the electronic device you are using at the time, whether a personal computer, tablet or smartphone.