FirstBank grants $4.5M in working capital to Pentaq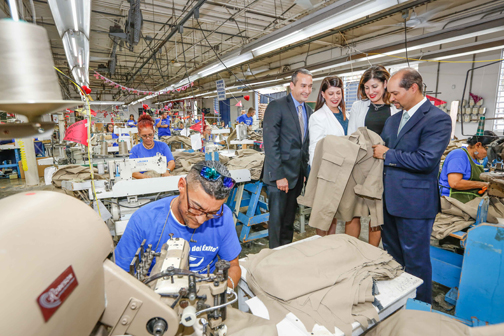 FirstBank announced Tuesday it has granted Pentaq Manufacturing Corp., a company that has been manufacturing military uniforms and equipment for the past 13 years in Sabana Grande, the first working capital line of credit of $4.5 million under the CAPLine program of the U. S. Small Business Administration.
The funding will allow the company to fulfill its contracts with the Department of Defense and the U.S. Coast Guard.
"At FirstBank we're very pleased to have granted Pentaq the first CAPLine in Puerto Rico. This line of credit will give Pentaq, with a management team with over 20 years of experience in the sewing industry and 385 direct employer jobs, the opportunity to buy their raw material directly without having to rely on financing from suppliers," said Nivia Castillo, vice president of Business Banking at FirstBank.
"The residents of the southwest region will also benefit, as more direct and indirect jobs will be created in this industry," she added.
To be considered for the CAPLine program, Pentaq met all the requirements established by SBA, such as having eligible contracts and accounts payable, production capacity and/or a good accounting and financial structure, said Ildefonso Rodríguez, vice president of the Small Business Unit at FirstBank.
"The contracts with the Department of Defense and the U.S. Coast Guard supported these requirement. With this line of credit, the company will be able to increase its profit margin, diversify its suppliers and obtain better prices in the purchase of raw materials," he said.
Pentaq was also granted two loans: one under the SBA Express Program to cover operational costs and another under the 7(a) Loan Program for the purchase of a highly efficient, state-of-the-art machine for cutting materials.
"Since its inception, Pentaq Manufacturing Corp. has been an SBA customer through various agency programs, not only by utilizing our financial products, but also by benefiting in the areas of training and technical assistance, and federal contracting," said Yvette T. Collazo, SBA Puerto Rico and U.S. Virgin Islands district director.
"Under the latter, we have celebrated Pentaq's many achievements, and we are proud of the jobs the company has created and the great contribution it makes to Puerto Rico's economy on a daily basis," she said.
"With this first CAPLine we approved on the island and other financing we provided together with FirstBank, we are supporting Pentaq's fulfillment of federal contracts and continued job creation," Collazo added.
CAPLine requires a company's eligibility for the 7(a) Loan Program, which guarantees a maximum of 85 percent of the loan up to $150,000, or 75 percent, from the first $150,001 to $5,000,000 in combined debt with the SBA.
CAPLine products that clients may request include: contract loans — financing for operational capital based on the need to fulfill eligible contracts; seasonal line of credit — used to finance short-term business activities; builders line — for financing direct costs of construction; and working capital — for financing operational capital based accounts payable.