FirstBank's 'Duplica tu Balance' promotion takes off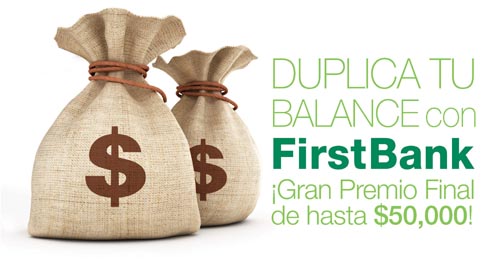 FirstBank's latest campaign, dubbed "Duplica tu Balance" ("Double your balance") takes off today, offering customers an automatic entry to the draw of two partial awards of $5,000 and of a grand prize of up to $50,000 with each transaction registered on their personal deposit accounts through Nov. 20, 2015.
"This is the best time to be FirstBank's customer. With this promotion, we want to increase the value of our relationship with our clients," said Aysha Issa, senior vice president of Retail and Business Banking.
"The more transactions they make, the more opportunities they have to double their debit account's balance. We invite those who do not have an account at FirstBank, to open the bank account that best suits their needs and take advantage of this opportunity to double the value of their deposits," she said.
FirstBank's individual deposit account customers have several ways to participate for a chance to win two awards of $5,000 that will be drawn on Sept. 28 and Oct. 30, 2015. The grand prize will be draw on Dec. 4, 2015; it will grant the lucky winner an amount equal to the average balance in their individual account, up to $50,000.
During the three promotional months, FirstBank customers will receive automatic participations when they open a personal checking or savings account; subscribe to direct deposit; and make deposits at a branch and at ATM's. They can also participate by registering for Internet banking, making online payments through Internet banking, mobile banking or telephone banking, making electronic funds transfers via Internet banking, mobile banking or using the Mobile ATM application, shopping at POS terminals with an ATM card or VISA debit card, or by activating the e-statement service.