Ford Fund awards $50K in scholarships, tech in P.R.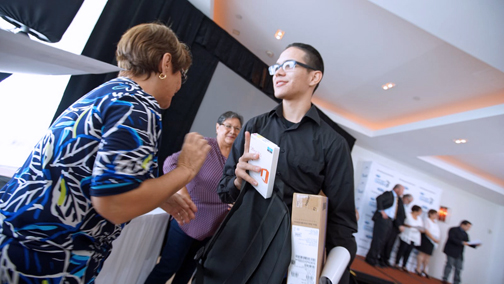 As part of its Ford Driving Dreams program, Ford Motor Company Fund awarded 30 high school students from 9-12th grade with $50,000 in scholarships and technology prizes, the company announced Wednesday.
Scholarship recipients plan to attend a four-year university, community college or technical school to further their education.
The students are part of the Ford Driving Dreams Tour, which launched in Puerto Rico last year and included motivational activities and participation in the "What Drives Your Dream?" essay contest.
The Ford Driving Dreams Tour is designed to provide educational resources and scholarships to motivate students to graduate on time and pursue college.
Ford Fund's efforts in Puerto Rico are part of a long-term investment of $100,000 for educational resources. According to ASPIRA, students ages 14-17 are most at risk of dropping out of high school due to a combination of social and economic factors.
"Ford remains committed to helping students in Puerto Rico achieve their educational goals by providing them with the tools and resources they need to succeed," said Joe Avila, community outreach manager, Ford Motor Company Fund.
Ford Motor Company Fund, the philanthropic arm of Ford Motor Company, worked with ASPIRA Puerto Rico to select the scholarship recipients and essay contest winners from Escuela Alternativa ASPIRA Aguada, Escuela Alternativa ASPIRA Mayagüez, Escuela Alternativa ASPIRA Carolina, and Escuela Francisco Oller Cataño. LULAC National Educational Service Centers (LNESC) will administer the scholarships.
The Ford Driving Dreams Tour was designed by Ford Motor Company Fund. The program launched in 2012 and has reached more than 75,000 students in California, Florida, Illinois, Indiana, Texas, and expanded to Panama and Puerto Rico. Ford Driving Dreams initiatives, including the Tour, have delivered more than $3 million in educational resources such as scholarships, college preparedness, tutoring programs, parental engagement, and motivational activities.
For the past six years, Ford Fund has invested more than $1.2 million in Puerto Rico, the company said. In addition to Ford Driving Dreams, Ford Fund educational programs in the United States include Ford Blue Oval Scholars, Ford Next Generation Learning, Ford College Community Challenge, and the Ford STEAM Lab.