Ford focuses on expanding market presence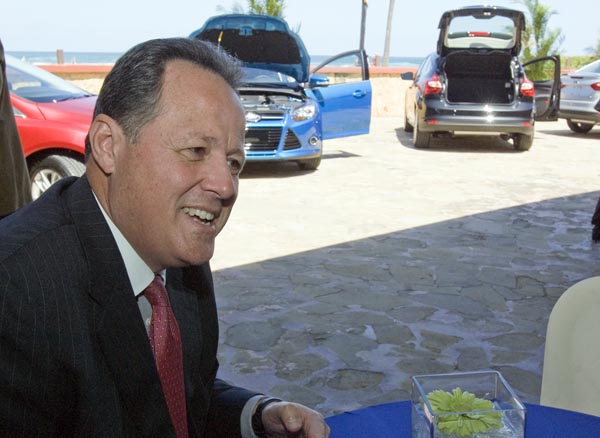 Waldo Galán  (Credit: © Mauricio Pascual)
Ford Motor Company is looking to increase its participation in the island's automobile market to 13 percent this year, selling close to 10,000 units, said Waldo Galán, director of Ford Puerto Rico, on Wednesday.
Achieving that goal would represent another year of consecutive growth for the automaker, which finished 2010 in fourth place in sales, with 8,460 units sold. That result represented a 59 percent year-over-year growth in comparison to 2009, he noted.
"I think this growth has a lot to do with the fact that there is an awareness that Ford is not the same company it was years ago. Those changes are paying dividends and have set us apart from other brands. We have reinvented ourselves in terms of quality and have made it a point to make technology accessible through a number of vehicle models," said Galán.
2012
Ford Focus   (Credit: © Mauricio Pascual)
One of those models is the 2012 Ford Focus, unveiled Wednesday, which company officials said will be available for sale in the local market starting in May. A fuel-efficient, 2.0-liter, dual overhead cam, four-cylinder engine that promises to deliver 40 miles per gallon on highway roads, powers Ford's newest global small car. A hybrid version of the sporty vehicle will reach Puerto Rico shores in 2012, he noted.
Last year, Ford's market share grew to 9.4 percent in Puerto Rico and to 10.1 percent in the combined P.R./U.S. Virgin Islands market. Part of that responds to the introduction of the Edge and Fiesta models to the islands, the executive noted.
The growth has come despite the economic hardships that consumers have been dealing with for the past five years in Puerto Rico. Still, Galán said automakers are confident that sales will continue to improve.
"We feel comfortable about the projected growth levels in the next three or four years. I'm not sure whether that projected increase responds to more confidence in the economy or because Puerto Rican consumers have a need to renew their vehicles following a long period of economic depression," said Galán.
Coupled with offering a preview of the 2012 Ford Focus to the media, the company also announced its "Focus Challenge" campaign, through which it will give away a Focus to the winners of an islandwide rally event from April 16 to May 22.