Fortinet holds cybersecurity summit as threats escalate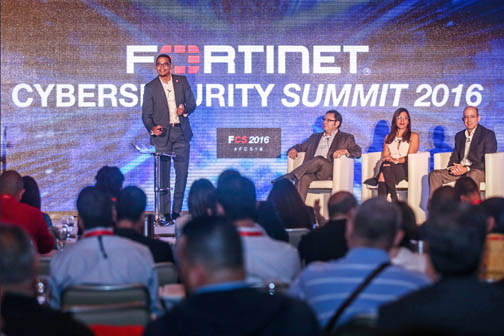 Local technology experts across public and private sectors are facing increasingly more complex cyberthreats as well as a higher number of cyberattacks, which make for challenging times as these types of attacks can have great impact in any organization's bottom line.
With that in mind, cyber security solutions firm Fortinet held the "Cybersecurity Summit 2016" (FCS16) this week at La Concha Renaissance San Juan Resort, when company experts shared strategies to meet cybersecurity challenges and promoted the preservation of a positive approach regarding the digital transformation.
"Cybercrime has become a global issue and threats are constantly evolving to exploit new digital vulnerabilities. In 2015, Puerto Rico experienced around 3 million cyberattacks per month," said Gilberto Rivera, regional manager of the Spanish Caribbean for Fortinet.
"For Puerto Rico's economy to thrive, companies in the private and public sectors must remain aware of the latest malware strategies and propagating attacks. The FCS16 discussions explain the strengths and weaknesses of virtualization, with special attention to the 'Internet of Things,' 'Big Data,' cloud and social business."
During the event, Fortinet executives highlighted why investing in technology will facilitate business growth, described the current security state of companies in the island, suggested the best practices to implement on a national level, and evaluated whether Puerto Rico is properly preparing cybersecurity professionals.
Business practices have undergone radical changes because of the Internet, increased mobility and changes in consumerization. Adapting technological advancements and having a strong online presence has become an instrumental part of remaining competitive, company officials said.
However, as companies move to digital desktops and minimize their data centers for virtual counterparts, cybersecurity is not always considered. Trojans are the most popular malware in Puerto Rico and they infect systems when downloaded as an email attachment or part of a fraudulent program. Businesses must learn to train employees on how to distinguish cyber threats and adapt the latest cybersecurity solutions to prevent a mass hack, executives further noted during the event.
FCS16 offered more than 250 attendees the opportunity to share vital information about threat trends, as well as the best practices and tips to develop new approaches to solve cybersecurity issues with professionals in systems engineering.
The full day of lectures, panel discussions, workshops and one-on-one meetings gave attendees the opportunity to learn from the perspectives and experiences of industry leaders in a unique executive environment.