P.R. Community Foundation, Oxfam America, Bosque Modelo launch partnership to strengthen community aqueducts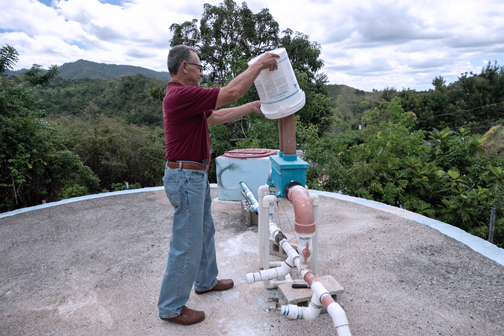 The Puerto Rico Community Foundation (PRCF), Oxfam America, and Bosque Modelo have joined to launch a project to strengthen approximately 10 rural community aqueducts in the island's central area that were affected by Hurricanes Irma and María in 2017.
There are still community aqueducts throughout Puerto Rico that have remained non-operational or with intermittent water service for almost a year following the hurricanes, with their needs yet to be addressed, the nonprofits said.
This initiative, led by PRCF, aims to fill that gap and enable sustainable access to water through restoration and improvement of infrastructure and the strengthening of administrative capacity within communities.
Community aqueducts provide potable water and are not connected to the Puerto Rico Aqueduct and Sewer Authority (PRASA). Most of these systems are located in isolated rural areas and many of them do not use water treatment technology. They are operated by community organized committees or boards that administer and maintain the systems.
Strengthening these infrastructures will include the installation of solar powered systems and equipment, support for regulations compliance, mentoring between communities, and infrastructure repair. Many of these aqueducts are located in Ciales, Caguas, Aibonito, Aguas Buenas and Cayey, the nonprofits confirmed.
"This alliance is an opportunity to effectively collaborate toward the sustainable recovery of vulnerable communities whose water systems were affected by the hurricanes," said Brenda Guzmán-Colón, senior program advisor for Oxfam America.
"With the new hurricane season already underway and investments still needed in water and other critical infrastructure, this partnership will bring much-needed support to rural communities in need," she said.
"We will work together with these communities to improve access to potable water, strengthen their ability to confront future events, and ensure that gender concerns are integrated into the process," Guzmán-Colón added.
The grant from Oxfam supports the representation of women in the governing bodies that administer the water systems in the communities. This ensures that women's priorities are heard, and guarantees their participation in decision making and solution finding processes.
The initiative is part of PRCF's programmatic project in the equitable access to water area known as Agua Pa' Nosotros (Water for Us.)
"It is our goal to transform these systems through restoration and/or sustainable repair to provide safe potable water to the communities," said Foundation CEO Nelson I. Colón Tarrats.
"Technical assistance will be provided to community members to improve the aqueduct's administration and maintenance, and residents' participation during construction will be encouraged," he said.
"The Multi-sectoral Community Council of the Bosque Modelo de PR Inc., is proud to be part of this alliance," said Edwin Rivera, member of the executive committee of Bosque Modelo.
"We deeply appreciate the opportunity to impact community aqueducts from the perspective of community empowerment and sustainability. A better Puerto Rico is possible and together we will achieve it," Rivera said.
PRCF has been working with 14 community aqueducts that also include other areas of the island thanks to a contribution from The San Francisco Foundation.
One of these is located in Río Chiquito in Ponce, where a solar system with panels and batteries have been placed. The majority of the island's approximately 247 community aqueducts were severely damaged by the hurricanes. The infrastructure was impaired, and they were further harmed by the lack of electricity needed for the water pumps.