GDB issues $450M in COFINA-backed debt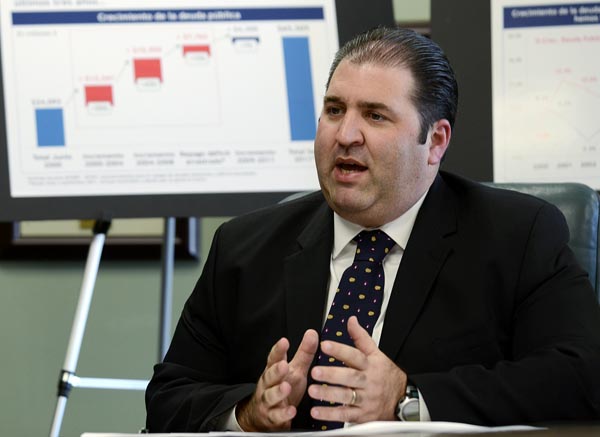 The Government Development Bank turned to the bond market last week, issuing $450 million in debt in less than a day, and will repeat the action again in two weeks, when it will seek to raise another $1.1 billion, agency President Juan Carlos Batlle said Thursday.
Part of the money will go toward covering the $610 million budget deficit on record for this fiscal year, he said.
"Our intention was to conduct this transaction over a two-day period, but we had to shorten that to a day, due to the overwhelming demand we got," said Batlle, noting that the bonds have a 32-year repayment term at a 5.1 percent interest rate.
"The market continues to support our efforts and our credit," he noted.
The amount of debt sold was split between $51 million that had to be placed locally, as it could not be offered in the U.S. exempt market, while the rest was sold to stateside investors.
The combined bond issues will max out the Sales Tax Revenue Financing Corporation's borrowing capacity, which depends on sales tax collections, or IVU, to repay the debt.
However, during a roundtable meeting with members of the local business press corp, Batlle was emphatic in saying that the government's trip to the bond market — backed by COFINA, as the Sales Tax Revenue agency is known in Spanish — does not represent "irresponsible borrowing," as opposing party lawmakers have denounced this week.
"The responsible issuing of public debt meets a key role in Puerto Rico's, or any jurisdiction's economic development," said Batlle. "This administration's public policy is to fully comply with the public debt. Puerto Rico has never failed to pay its debt and this administration recognizes the importance of protecting Puerto Rico's good name and credit."
As of September 2011, Puerto Rico's public debt stood at $65.5 billion, including municipalities and public corporations.
He said that while upon completing the twin bond issues, COFINA will not have the capacity to float another transaction, he said the moves had been calculated based on the projections for IVU collections.
"Future refinancing transactions backed by COFINA will depend on how IVU collections grow. But to say that COFINA has been maxed out is not entirely correct," he said. "We're seeing an increase in IVU collections, not necessarily due to economic growth, but due to additional money we're shoring up due to the controls we're implementing."
"COFINA's capacity is not forward-looking. Once IVU revenue comes in is when we'll know the capacity it has. What we're issuing now is covered," he said, noting that another chunk of the borrowed funds will go toward repaying a mandatory tender of $1.2 billion in bonds due in February 2012.
Retirement fund conundrum
In response to questions by the media, Batlle provided an update on the steps being taken to address the severely underfunded Commonwealth Retirement System, which has drawn the attention of Moody's Investor Services and a downgrade earlier this year.
The decision spurred the creation of a bipartisan committee that has met several times this year, but has yet to define a roadmap to address the problem that Batlle acknowledged "will not be solved overnight."
"There isn't a unique solution, although we've already taken steps to extend the System's life by at least another seven-and-a-half-years," he said, referring to the decision to reduce the amount of personal loans to $5,000 from $15,000 and increase employer contributions.
At present, the government's pension plans are dragging an unfunded liability of $25 billion and $42 billion in debt, which represents roughly seven times the annual budget.
Although Batlle would not disclose the proposals the bipartisan committee has been discussing, he said "there is a will to achieve something this year."