Next-generation Jeep Wrangler to hit P.R. roads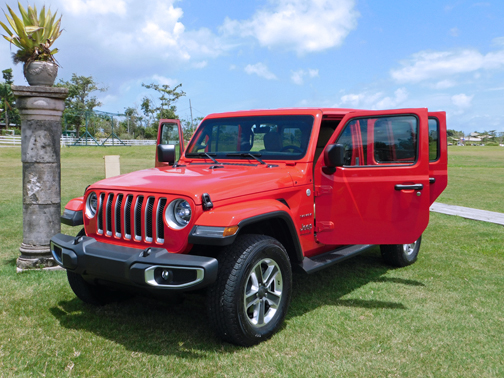 The Jeep brand announced the Puerto Rico arrival of the new generation of the icon of the brand, the Jeep Wrangler, designed to remain true to its 77-year legacy, automaker executives said.
The vehicle, known for its "rough and tumble" style, maintains its iconic style, round spotlights and seven-slot grid, but integrates modern features, design and materials.
"In Puerto Rico, the owners of Jeep vehicles are proud of their vehicles and come from different places, diverse backgrounds and varied experiences," said Ricardo García, general manager of FCA Caribbean, which markets the Jeep brand in Puerto Rico.
"The Jeep Wrangler is your partner in many of those daily adventures. That's why we want to make history and in gratitude to the Puerto Rican people for the support offered to the brand, we will celebrate the National Jeep Day," he said, of the grand-scale public event to be held in June.
In its newest incarnation, the Jeep badge moves to the side of the aluminum guardrail, an aspect reminiscent of previous models. The new Wrangler is available in three different engines:
A 3.6-liter Pentastar V-6 engine with 285 horsepower and 260 feet of torque;
A 3-liter Eco-diesel V-6 engine responding to overwhelming consumer demand with 260 horsepower and 442 feet of torque; and,
A turbocharged 2-liter, 4-cylinder engine with 270 horsepower and 295 feet of torque.
The vehicle — available in the Sport, Sahara and Rubicon models — has greater gasoline efficiency than its predecessors, with up to 25 mpg and is available in eight-speed automatic transmission or six-speed manual. It also has a towing capacity of 3,500 pounds.
On the inside, the Wrangler is refined, with features such as Wifi, Sirius XM Guardian, Apple CarPlay, Android Auto and touchscreen display with plenty of features. The vehicle incorporates more than 75 safety features.