González: PR population to dip under 3M within a year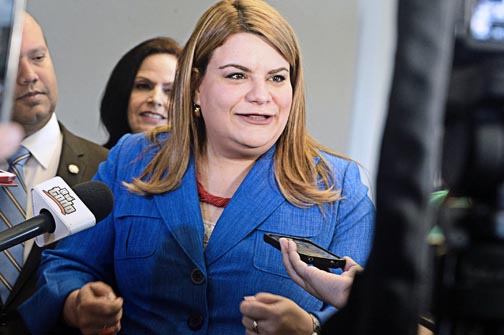 WASHINGTON — Puerto Rico's population will dip under 3 million within a year — for the first time since the mid-1970s — if current rates of emigration continue, warns Jenniffer González-Colón, the island's resident commissioner in Washington.
"We're talking about 1,000 Puerto Ricans leaving the island daily" since Hurricane María struck well over a month ago, she said in an interview Wednesday afternoon at her office on Capitol Hill.
"This will directly affect our economy in the long term," she told NIMB. "If you don't have the human resources and the tax base to maintain an economy, how can you recover without the people who will work and pay taxes and make this happen? This can put that recovery in jeopardy."
González said most are joining family members already on the mainland until the situation at home stabilizes.
"I talk with Florida Gov. Rick Scott on a weekly basis. He told me that 20,000 Puerto Ricans have moved to Florida, half of the 40,000 who have left since María," she said. "We don't know if they're coming back. People need to work, and most of the private sector is letting employees go without salaries. And elderly people are leaving the island. I don't even want to think about it."
González spoke to NIMB minutes after her office confirmed that Puerto Rico's U.S. passport service office would resume operations next week, and only a day after the Senate approved a supplemental appropriations measure passed by the House that includes $4.9 billion for Puerto Rico.
Asked about the Trump administration's response to the catastrophe, González said "the media will pick whatever controversy that's going on, but I'm the only federal elected official from the island. I am the sole representative for 3.4 million U.S. citizens from Puerto Rico. And what I've been doing is looking for coordination with federal agencies in terms of responding to what has happened, and releasing funds to get FEMA running. In that regard, we're working with the speaker of the House, who has been a big supporter of the island's recovery."
Concerns over future of manufacturing
González said she's particularly concerned about the hurricane's impact on Puerto Rico's all-important pharmaceutical industry. Manufacturing accounts for about 40 percent of the island's economy, and of that, 32 percent is generated by production of drugs and medical devices for export to the U.S. mainland and abroad.
"If there's no power, there's no production, and no tax revenue," she said, noting that 14 products including insulin and blood transfusion bags are made exclusively in Puerto Rico and are threatened by power cuts.
"This doesn't just affect the supply of medicines to the States and internationally, but also directly hurts the island's economy," she said. "There's no way we can take for granted that these companies will always be there if we don't connect the grid soon. So having these companies operational is a main priority for me."
González said she won't push to permanently revoke the Jones Act — which prohibits foreign-flag vessels from transporting cargo between the U.S. mainland and o Rico — because nobody took advantage of the 10-day waiver Trump declared in the days following María's devastation.
"Zero ships arrived with international flags," she said. "This is the second time a waiver was approved; the first time was after Irma. But logistics was the main issue."
González said "this is a long discussion" that's been going on for years.
"For people who don't live in Puerto Rico, it's easy to say 'let's have international shipping.' But when you import 80 percent of what you consume, you need reliability and expedited service. That's what the Jones Act provides — that kind of security — having ships and barges only for Puerto Rico's use," she said.
In the longer term, González said incentives to invest in Puerto Rico must be included in the tax reform discussions now going on in Congress.
"We need to encourage more domestic companies to establish operations on the island," she told NIMB. "The president says those companies are moving to Mexico. Well, when you're doing tax reform, you consider everything, and we want Puerto Rico to be an option."
To that end, González has already led several delegations to see the devastation for themselves, and on Friday she's bringing yet another one.
"I've gone with President Trump to the island. We've brought Vice President Pence, Rep. Paul Ryan and others, along with members of the cabinet," she said. "Why is this so important? Because we don't have senators, so the only way I can continue pushing the island's agenda in Congress is by having my colleagues go there."