Google Engage launches in Puerto Rico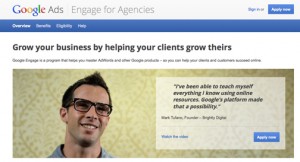 Google Engage, a program created by Google to teach the 'ins-and-outs' of online advertising, is now available in Puerto Rico to give users the chance to train, learn and become certified in free tools like "Apps," "AdWords" and "Analytics," the company announced.
Ultimately, learning to use these tools help small and large businesses around the world to increase their productivity and enhance their business objectives through the Internet, Gustavo Alvarado, Marketing Manager of Google Colombia, said.
"Knowledge is one of the most important tools available to any advertiser or agency looking to excel in the current era," he said. "Google's mission through 'Engage' is to help many who have not yet made the move to digital online, or to incorporate this as an important differential value for customers and brands."
"All this is achieved through training, so we put events, educational materials and support available to all who wish to learn," Alvarado said.
Online opportunities are constantly popping up in the area of Internet-based marketing and advertising. According to the Puerto Rico Sales and Marketing Executives Association's recently published "Digital Mobile and Behaviorial Study," 50 percent of Puerto Rico residents use the Internet, as more than 1.5 million users 12 and older are connected. Additionally, mobile web access has increased in this year to 57 percent from 44 percent.
"All this, plus the fact that a study by Latamclick shows that 65.5 percent of Puerto Ricans who use Internet shop online, shifts the challenge to new generations — marketing and advertising students — who not only must know life-long skills, but also the way large and small agencies are moving to digital. Google Engage was launched in Latin America for them and all who want to learn about online advertising," the Google executive said.
In Puerto Rico, agencies, managers and website designers, Search Engine Optimization — or SEO — experts and independent advertising executives have recently entered the scene, changing the way companies and brands are communicating, he added.
"The figures show that the Internet is a must for brands and companies," Alvarado said.
Google Engage provides participants access to exclusive events on Google's latest products, the opportunity to network with other program participants, promotional materials that can be used with clients, AdWords coupons that can be used to attract new customers and training materials to become a Google Certified Partner, all at no cost.