Gov't incentives spur use of solar heaters in P.R.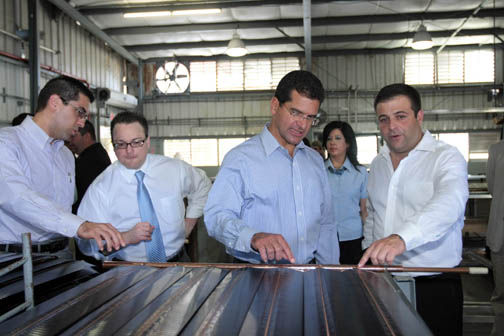 Some 11,200 solar heaters were installed in Puerto Rico during 2011 and 2012, following the injection of more than $20 million in American Recovery Act and Reinvestment Act funds into local product manufacturers, Resident Commissioner Pedro Pierluisi and Energy Affairs Administration Executive Director Luis Bernal said Tuesday.
The information was disclosed during a visit by the government officials, along with Toa Alta Mayor Aníbal Vega Borges and Economic Development and Commerce Secretary José Pérez-Riera to the Universal Solar manufacturing facilities in Toa Baja.
Th Puerto Rican-owned company, along with Acevedo Solar in Moca, have "witnessed the development and stability in the industry, thanks to government incentives," Pierluisi said.
"Today we see the direct impact that ARRA has had in our economy and our quality of life. As a result of the federal government's energy conservation programs, Universal Solar increased sales, created new jobs and will now be in a position to manufacture and sell solar water heaters not only in Puerto Rico but also in the states," he said.
The heaters produced at the plants are a key element in the modernization of more than 15,000 homes across the island participating in the government's "Weatherization Program," which has benefited about 40,000 island residents. The modernization may include the replacement of energy-chugging household appliances with high-efficiency units that can produce savings of up to 40 percent in electricity costs.
Prior to the influx of ARRA funds, Universal Solar water heater sales averaged about 150 per month, including installation. Through the weatherization program that number has jumped to 540 solar-powered devices a month.
"This program has been instrumental in the emergence and development of a green energy industry in Puerto Rico," said Bernal. "With the ARRA funds, we've designed programs that benefit families by reducing their energy consumption, as well as our local industries so they can grow, stabilize and expand operations."
The increased business activity at Universal Solar has generated 25 new jobs, as well as 15 indirect solar heater installation jobs. The heaters are now being distributed through Home Depot in Puerto Rico, and will soon be exported to Florida and southern U.S. mainland markets. The company has invested more than $200,000 in new manufacturing equipment, to secure the impending expansion.