19 co.'s graduate SBA's Emerging Leaders '15 training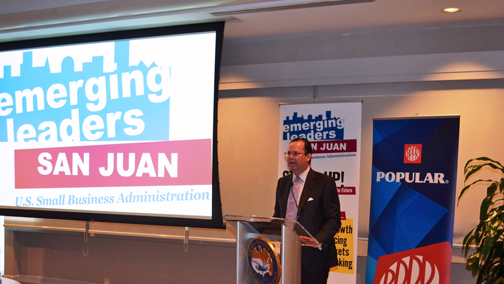 The U. S. Small Business Administration Puerto Rico and U.S. Virgin Islands district office on Tuesday graduated 19 companies from the first ever Emerging Leaders training series delivered on the island.
"Today, we celebrate the hard work and dedication of 19 entrepreneurs who are committed to growing their companies and to creating jobs, investing in Puerto Rico's economy," said SBA District Director Yvette T. Collazo.
The 19 graduates represent a variety of sectors; from financial management, protective equipment, and internet and software development, to soil testing, building maintenance, health studies, construction and derma-esthetics, to mention a few.
The following business owners and their respective companies graduated from the Emerging Leaders Class of 2015: Abbelle Bakr, IBCVI & Co.; Alberto Lugo, INVID; Angel Castro, Tomcas Work & Safety Shoes Corp.; Armando Pérez, TSRD; Bryan Ortiz, Nova Derm; Cándido Alfonso, PayTech Corp.; Carlos Rodríguez, División 16 LLC; Diomayra Adorno, ESG, P.R. Inc.; Edgar Rosado, Unified Global Solutions; Elithia Vega, APS Automotive & Industrial Supply; Iris Vincent, Prime Air Corp.; Jo Ann Medina, DoorAdo Equipment; Julio C. González, JC González Inc.; Lisa Spickers, Humidity Control Solutions; Luis García, Geo Cim Inc.; María F. Levis, Impactivo LLC; Nelson Romeu, Building Fast Cleaning Service Corp.; Walmarie Soler, Verjas Nuevo Milenio Inc.; and William Del Pilar, Powercooling & Controls Inc.
Launched locally in April 2015, the Emerging Leaders program was designed to serve as a catalyst to help expand opportunities for established small businesses in underserved communities. Over the past seven months, participants worked with instructors, mentors and industry experts, developing connections with other business owners and community leaders.
They exit the program with a three-year strategic growth plan for their businesses, developed using the knowledge, skills, and techniques perfected throughout the course.
"Our graduates now have additional tools to take their business to the next level," Collazo said. "They are the epitome of creativity and determination. At SBA, we have been witness to that since our inception, and the last seven months have been no different."