Grupo Guayacán, Banco Popular Foundation award $225K to 22 local businesses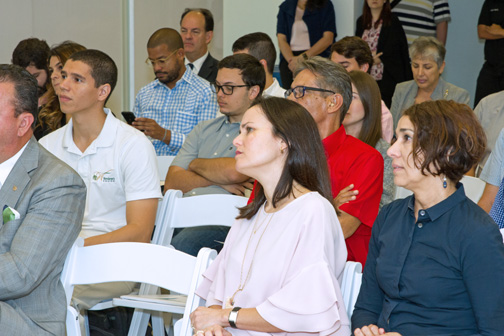 Grupo Guayacán Inc. (GGI) announced the 22 local businesses selected to receive emergency funding through the Guayacán Start-Up Grants Program, an initiative launched in collaboration with the Banco Popular Foundation to support the economic recovery of emerging companies in Puerto Rico after Hurricane María.
In total, the program awarded $225,000 in grants ranging from $5,000 to $15,000 per start-up. A group of nine companies received the maximum award of $15,000, five obtained $10,000 grants, while another eight received $5,000.
All the selected companies are current or former participants of GGI's entrepreneurial development programs for start-ups, including EnterPRize, SPRINGBOARD and IDEA Seed Fund.
The grant funding will be used to address the start-ups' most critical needs, including: property and equipment, payroll, professional services and office space.
The grants will be disbursed in two phases, subject to the achievement of milestones agreed upon by the start-up teams and GGI.
The following are the 22 selected start-ups: Agro Tropical, Inc., Aseguratec LLC, BrainHi, Brands of Americas, Clickup Corp., Dame Un Bite Inc., Estancia Verde Luz, Feliche Artisan Yogurt, Guide-Pod, Inc. (DBA Nítido: Taller Creativo), Huerto Isleño, Join a Join, Manage My Nest, Molcajete Foods LLC, OBA LLC (DBA OBALearn), Parknet, PRatian LLC, Quesos Vaca Negra, Software Education Solutions (DBA Codetrotters), Sunne Labs Corporation, TextualMind Corporation, TiX.By LLC and Wonderen's Foods LLC.
"Through this emergency funding program, some of Puerto Rico's most promising start-ups will be able to resume their operations and restart their path to accelerated growth, generating measurable economic impact for the island at a time of great need," said Laura Cantero, GGI's executive director.
The winners were selected based on the following criteria: business model, company and business track record, and their need for emergency funding. In total, the selected startups represent over 140 jobs in Puerto Rico and more than $2.3 million in aggregated annual sales. They also represent a wide variety of industries with emphasis on agribusiness and food, technology, creative industries, renewable energy, and tourism.
The entrepreneurs spoke about the impact of the funding for their businesses.
"Hurricane María threatened to stall our growth in a stage where we were just starting to take flight. The Guayacán Startup Grant has not only given us a boost to continue operations, but also a huge sense of support from the local entrepreneurial community," said Nannette Martinez of Clickup.
"Just when we were about to lose all hope, Guayacán announced its startup grants program, offering relief to local entrepreneurs. This relief funding will not only help us keep our staff and finish building our products but, more importantly, it helps bring back the hope that we were about to lose," said Manny Morales of Tix.By.
"I am beyond grateful for this grant, and incredibly proud of Guayacán and Banco Popular for showing with real actions, not just words, what it takes to move Puerto Rico forward," he said.
Fundación Banco Popular is a long-standing collaborator and sponsor to various GGI programs and initiatives focused on entrepreneurial development and access to capital.
"As a Foundation, we aspire to play an active role in Puerto Rico's recovery. One of our initial goals with the Embracing Puerto Rico campaign was to look for a way to facilitate access to emergency capital to the entrepreneurial community, helping to secure the continuity and sustainability of local businesses," said Beatriz Polhamus, executive director of the Banco Popular Foundation.
"In Grupo Guayacán, we found the ideal partner to make this idea a reality with the objective of restarting local economic development after Hurricane María," she said.
This program was made possible thanks to a donation from the Embracing Puerto Rico campaign which was launched by Banco Popular and led by the Foundation to support the island's recovery after the devastation left in the wake of Hurricane María.
Funding for this initiative was provided by "Somos una Voz," a coalition of artists led by Marc Anthony who came together using their talents and influence to provide immediate aide to communities affected by Hurricane María and other natural disasters.
"We are proud to continue strengthening our partnership with Popular to offer local start-ups access to emergency funding, particularly at a time when we are refocusing our efforts towards recovery and economic relief for Puerto Rico," Cantero said.