USACE signs off on study to OK $54M San Juan harbor dredge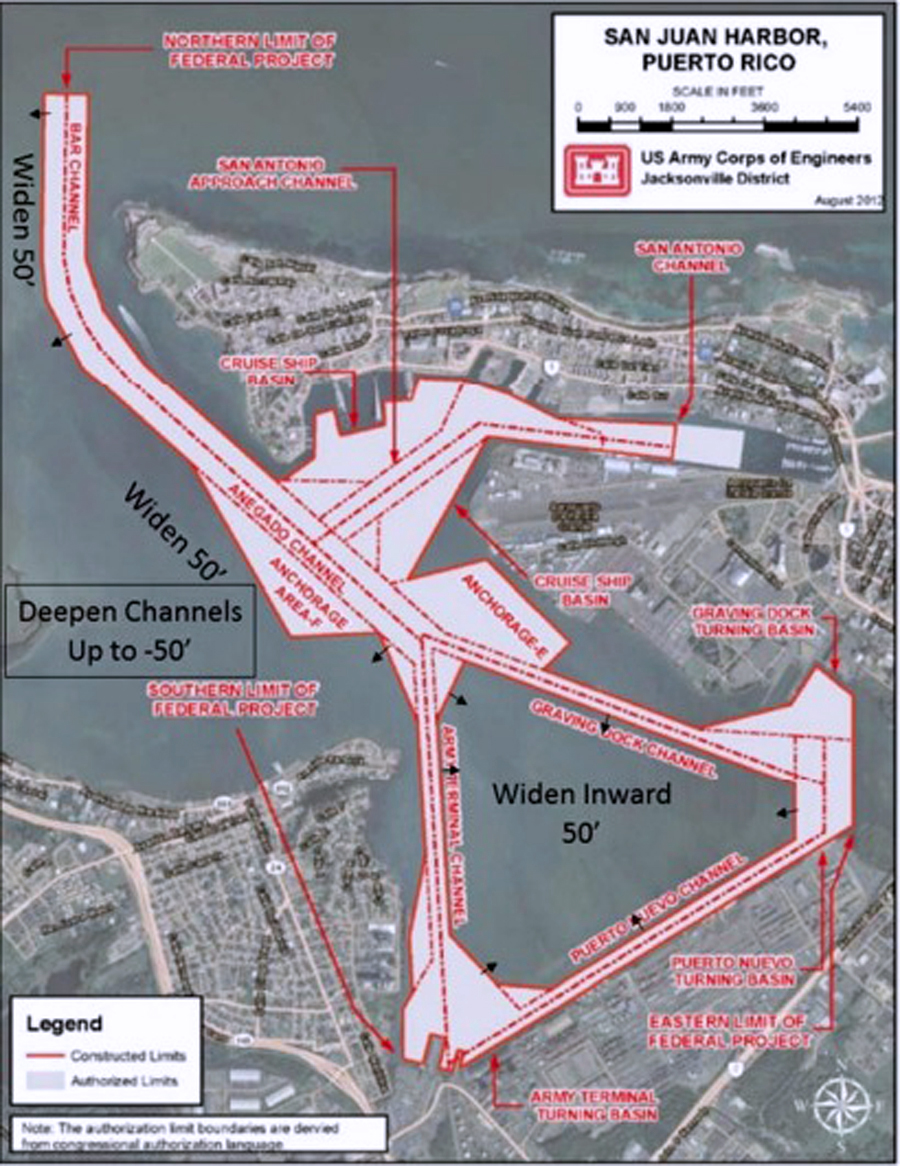 The Chief of the U.S. Army Corps of Engineers, Lt. Gen. Todd Semonite, officially signed the Chief of Engineers Report for the San Juan Harbor Navigation Improvements Study, the entity confirmed.
The Aug. 23rd signing of the report is a "significant milestone for Puerto Rico," and addresses harbor improvements such as deepening and widening the channels, accommodate existing and future vessel movement, resolve navigation restriction problems, and present opportunities for economic development, the USACE stated.
Semonite's report will now go to the Assistant Secretary of the Army (Civil Works), and then to the Office of Management and Budget for review. After these reviews, the report is sent to Congress for future authorization.
"If authorized and funded, this improvements project will bring great economic value to the nation, and support ongoing long-term post Hurricane María recovery in Puerto Rico," said Jacksonville District Commander Col. Jason Kirk.
The planning, engineering and design phase could start as early as 2019, subject to funding estimated at $54 million. The Corps anticipates completion of this phase in two years. Construction of the project is subject to authorization and appropriations and would likely take three years to complete.
San Juan Harbor currently suffers from some known shipping inefficiencies due to limited channel width and restrictions that don't allow two-way traffic. Certain sizes of container and cargo vessels can't exit the port through the Graving Dock area due to limited depth and width, and have to turn and transit near the Army Terminal, which creates delays with incoming ships using the same channels.
Puerto Rico Ports Authority Executive Director Anthony Maceira said, "The benefits of the implementation of this project range from being able to bring more fuel in fewer vessels and, therefore, reduce the cost of fuel and other products, allowing cruises to enter and leave the bay more efficiently, to increasing the safety of maritime operations and reducing air emissions and noise, among others," said Maceira.
San Juan Harbor is located on the north coast of Puerto Rico and is the island's principal port. The majority of the commonwealth's waterborne cargo and cruise ships pass through the harbor, handling more than 75 percent of the Commonwealth's non-petroleum waterborne commerce.
The project also transfers maintenance responsibility for a 1,050-foot piece of the San Antonio Canal to the U.S. government, granting an economy to the Ports Authority in dredging that portion of the canal. The dredging of this canal provides a benefit to the Pan American Piers I and II in Isla Grande, allowing greater efficiency and safety in the maneuvers, Maceira said.
The study cost $3 million, of which Ports covered $1.5 million. However, USACE granted Ports a $455,000 waiver, reducing the cost for the agency to $1.04 million.