High schoolers offer lessons in sustainable economic development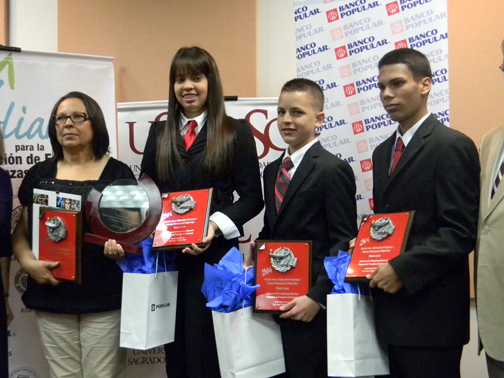 A trio of 10th grade students from the Antonio Reyes Padilla Vocational High School with a clear vision of how to further the economic development their hometown of Utuado walked away this year's winners of the 14th edition of the Partnership for Economic Education and Personal Finance's National Economy Competition held late last week.
In their winning presentation, the students — Osvaldo A. Pérez, Alfredo F. Cortes and Elymarie Maldonado — focused sustainable development through entrepreneurship and innovation that is adjusted to Puerto Rico's current reality. Their strategic plan recognized that Utuado has all the necessary resources, such as history, culture, natural resources, and a strong local economy to regain the footing it once had.
The students proposed a three-fold strategy based on creating businesses under the co-op model to serve areas such as health, tourism and promote entrepreneurship.
The economic development proposals competition is the product of a partnership involving the Puerto Rico Bankers Association, the New York Fed and Sacred Heart University, whose purpose is to promote education in economics and finance in local high schools. Five finalists were selected to pitch their proposals during the final competition held last Friday.
Coming in second were the students competing on behalf of the Miguel Such Vocational High School in San Juan, who proposed launching a television show entitled "Economic Rescue," to focus on the economic issues affecting each of the island's 78 towns.
In the first episode, students Eugenio Rojas, Génesis Medina and Raixa González, would focus a "before and after" analysis of the impact the exit of the Roosevelt Road Naval Base operations had on the town of Ceiba. The show would comprise differente sections discussing the town's economic track record, economic diagnosis, and a one-on-one with the mayor, among others.
Rounding out third and fourth place were the student teams from the José Vizcarrondo Añeses High School in Utuado and the Francisco Morales High School in Naranjito, who presented a pair of unique projects also revolving around sustainable tourism and agriculture concepts.
All of the winning students and their mentor teachers took home cash awards, while the first place winners also received a paid three-credit class at Sacred Heart.