Hispanic Business Inc.: 'AT&T best company for diversity'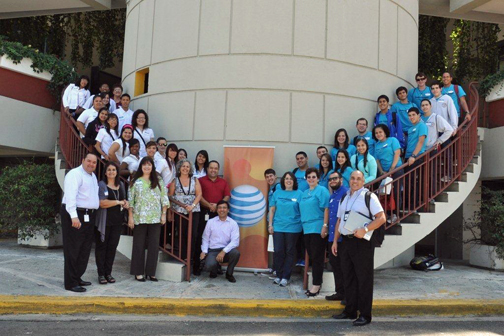 AT&T's diversity, community programs, and work with minority-owned businesses make the company a great place to work according to Hispanic Business Inc., which recently named it the "Best Company for Diversity."
The appointment is based on AT&T's community participation, hiring and retention of diverse talent, and for including minority-owned business in its supply chain, the company said.
AT&T's employee base consists of 38 percent women and 39 percent people of color. Four of its top executives are Hispanic, including Ralph de la Vega, president and CEO of AT&T Mobility. Thus far in 2013, AT&T's Hispanic/Latino employee group, HACEMOS, presented $261,500 in scholarships to high school students.
In total, HACEMOS has presented more than $2.5 million in scholarships since 1999.  Every year, they host High Technology Day, a national event for middle and high school students who are at risk of dropping out. At this event, students learn about the rewarding careers in science, technology, engineering and math. More than 15,000 students have participated in the program since 1999.
"Diverse, talented people — coupled with the company's inclusive culture, have long been key to our success," said Debbie Storey, AT&T chief diversity officer. "Because our customers, our suppliers and our investors are diverse, we serve them best when our workforce is diverse. When they bring their unique perspectives to the table, we all win."
In Puerto Rico, AT&T started a local HACEMOS Chapter and earlier this year held a "High Technology Day" for 30 high school students where they shared with HACEMOS volunteers and company leaders and learned about wireless technology and the opportunities the technology industry has to offer.
Hispanic Business Inc. also recognized the wireless carrier's supplier diversity organization, which promotes, increases, and improves the overall participation of minority, women, and disabled veteran-owned business enterprises in the supply chain.
AT&T has been a leader in supplier diversity by identifying and promoting diverse businesses for contract opportunities — and has numerous programs in place to develop certified diverse suppliers. As a result, AT&T exceeded its corporate goal one year ahead of schedule — spending $12 billion with certified diverse suppliers in 2011 and $12.8 billion in 2012. AT&T's top Hispanic suppliers self-reported that more than 2,000 jobs have been created supporting AT&T.
AT&T has been included on this list for eight consecutive years, grabbing the top three spots six of those times.