Hyundai donates ophthalmological equipment to Pedriatric Hospital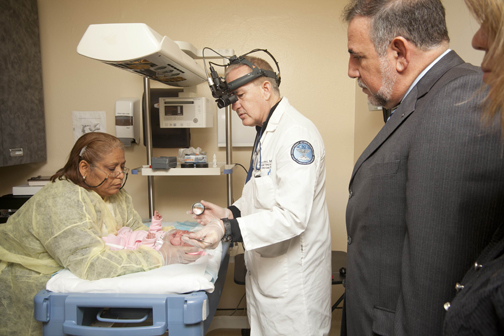 Hyundai de Puerto Rico recently donated highly specialized ophthalmological equipment to the Rio Piedras Medical Center's Pediatric Hospital to help prevent eye conditions in premature infants.
The hospital received a Laser Indirect Ophtalmoscope, a device that specifically benefits neonatal intensive pediatrics. The equipment will help prevent retinopathy in premature babies, an eye condition that can be developed in children born at 30 weeks or less and weighing three pounds or less.
Retinopathy occurs when the blood vessels in the retina develop abnormally, causing long-term vision loss to total blindness if not treated on time.
In addition to the donation, Hyundai employees visited the hospital during the holiday season bearing gifts and music for the children.
"We're very happy to be able to make this donation to the Pediatric Hospital. It was a beautiful experience because beyond providing equipment that will be very helpful for physicians, we had the experience of spending time with the patients of that institution, and that definitely is priceless," said Víctor Quintero, president of Hyundai of Puerto Rico.
"We're very excited and hope that this equipment is of great benefit to the hospital," he said.
This is the second consecutive year that Hyundai bestows a gift upon the Pediatric Hospital. Last year, the company delivered five monitors to measure hematocrit in pediatric patients undergoing hemodialysis.