In US-Dutch trade, Puerto Rico lags, despite numbers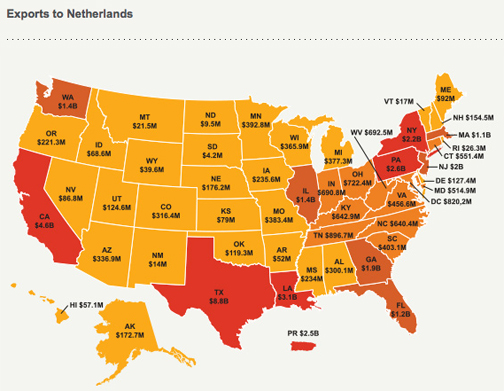 Nearly 680,000 Americans, including 15,649 residents of Puerto Rico, owe their jobs to bilateral trade and investment between the Netherlands and the United States.
That's the conclusion of a study released March 20 by the Royal Dutch Embassy. The report, "Economic Ties Between the USA and the Netherlands: A Partnership That Works," says that despite economic difficulties in both the United States and the 27-member European Union, Dutch investment in the U.S. economy continues to rise.
"As the global economy continues on the road to financial recovery, our Economic Ties report proves that durable, bilateral ties consistently yield results for both nations," said Stephen Raes, the embassy's economic minister. "Imagine how much stronger these ties can be when the U.S. and EU establish a Translatlantic Trade and Investment Partnership."
According to the study, Puerto Rico exports a higher percentage of its total exports (13.8 percent) to the Netherlands than any of the 50 states. The only ones that come close are West Virginia (7.7 percent), Hawaii (6.5 percent), Louisiana (5.7 percent) and New Jersey (5.1 percent). Meanwhile, Connecticut tops the list in Dutch FDI as a percentage of total FDI (16.1 percent), followed by Maryland (14 percent) and Massachusetts (11.4 percent).
The report said that in 2011, Puerto Rico imported $481.6 million worth of goods from the Netherlands, 58.1 percent of which was petroleum and coal products, 9.4 percent beverages and tobacco, and 32.4 percent other products. In 2011, Puerto Rico exports to the Netherlands came to $2.5 billion, consisting of chemicals (81.4 percent), light manufactured goods (14 percent) and computers and electrical equipment (3.5 percent).
Misleading figures
Yet Robert Van Hartingsveldt, the honorary Dutch consul in San Juan, said those export figures are misleading.
"The reason for that is that Martinair flies cargo out of Puerto Rico to Holland three times a week," he told NIMB. "They ship a tremendous amount of pharmaceuticals to Holland, which then get redistributed throughout the European Union. Only a small percentage of those exports stay in Holland."
Although more than 850 Dutch companies operate in the United States, including well-known brands like Heineken, Philips, Shell Oil and Unilever, the country's presence in Puerto Rico has declined dramatically.
Van Hartingsveldt said Shell closed its operations in Puerto Rico years ago, ICI Paints was sold to Pittsburgh Paints (so it's no longer a Dutch company) and Heineken shuttered its Caribbean/Central America regional office in Guaynabo two years ago. That leaves Arcadis — a $3.3 billion management and engineering consultancy — as the only prominent Dutch concern remaining on the island.
"Arcadis was very active here from 2000 to 2005, but then we had a severe recession, so there are really no infrastructure projects going on," said Van Hartingsveldt. "There's really very little business between Puerto Rico and Holland at the moment."
On a national scale, however, bilateral trade is booming.
"The U.S. was the sixth-largest export partner for Holland in 2010, and in 2012 became fifth, while export growth to the Netherlands since 2009 has averaged 10 percent a year," said Raes. "If you read the newspapers, you'd think the end of Europe was in sight. But there's actually quite a lot going on. We've got an unemployment level of just over 5 percent. The president of the United States would like such results."
Negotiations recently began on the TTIP, which the Netherlands enthusiastically supports. If approved, it would replace the North American Free Trade Agreement as the world's largest such accord, since the U.S.-EU trade relationship accounts for a third of total goods and services trade, and nearly half of global economic output.
TTIP talks are expected to focus on three broad areas: market access, regulatory issues and non-tariff barriers, and modes of cooperation such as intellectual property rights, labor laws and protection of the environment.
"This agreement will be crucial to the continued growth of both our economies," said Rudolf Bekink, Holland's ambassador to the United States. "The numbers in our Economic Ties report can be the seeds to the bountiful trade opportunities that will open up. In nearly every critical trade indicator, such as goods and services imported and exported to each country, Dutch-U.S. economic ties saw increases."
Among other things, the newly released report found that:
The Netherlands retained its place as the third-largest foreign investor in the United States, pouring $240 billion into U.S. companies in 2011.
U.S. companies increased their investment in the Netherlands to $595 billion, making it the top recipient worldwide for U.S. foreign direct investment.
The trade exchange of goods between the two countries increased by 26 percent in 2011 to $81 billion.
According to the report, about 343,300 U.S. jobs exist thanks to Dutch investment in the United States, while another 336,500 jobs depend on U.S. exports to Holland. Those numbers are for 2011, which saw a 9 percent increase (or about 55,000 jobs) from the previous year.
Raes supervises a team of 50 people around the country, both at the embassy in Washington and at Dutch missions in Atlanta, Boston, Chicago, Houston, Miami, New York and San Francisco.
U.S. investment booming
"There's no country in the world where the United States invests more than the Netherlands," he said, putting total investment at $595 billion, with Great Britain running a close second, at $550 billion.
"Before I came here, I didn't know that," said Raes, who prior to assuming this job in 2008 — just as the recession began ravaging both sides of the Atlantic — was director of international technology cooperation at the Dutch Commerce Department.
"Historically speaking, Europe is by far more important than emerging markets or even Canada and Mexico. There's a lot of reasons for that," he said. "We have a good investment climate in the Netherlands, we've got a population that speaks English, an attractive corporate tax rate, and also Schiphol Airport and the port of Rotterdam, which is the gateway to Europe."
Another interesting fact: annual per-capita GDP in the Netherlands now stands at $50,216, according to the IMF — slightly higher than the U.S. figure of $48,238.
The top five states in terms of job creation due to economic ties between the U.S. and the Netherlands are Texas (98,271 jobs), California (63,278), Pennsylvania (45,912), New York, (42,881) and Massachusetts (39,743).
Texas also tops the list of Dutch foreign direct investment ($12.6 billion), followed by California ($7.4 billion), Massachusetts ($3.9 billion) and New York ($3.7 billion), said the report.
In 2011, the United States exported $46 billion in merchandise and $1.5 billion worth of services to the Netherlands, according to the report. Major U.S. companies operating in Holland include Abbott, ADM, Cargill, Carnival Corp., Caterpillar, Coca-Cola, General Electric, Heinz, IBM, Nike, Starbucks, UPS and Xerox.