Suiza Dairy inaugurates new $40M processing plant in Aguadilla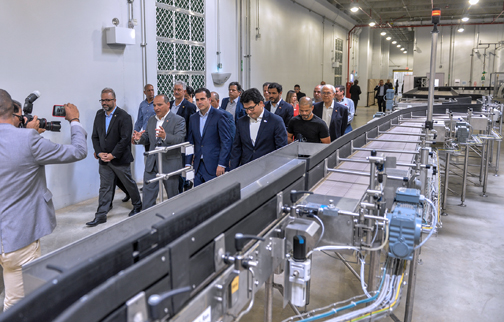 Suiza Dairy inaugurated its new VIDA milk processing plant in Aguadilla, which entailed $40 million in private-sector investment, company executives announced.
VIDA stands for "Valor, Innovación, Desarrollo Aséptico" (Value, Innovation, Aseptic Development) marks a milestone in the manufacture and production of milk with a unique plant in its class in Latin America and the Caribbean, executives added.
The plant, located in the Camaseyes neighborhood of Aguadilla, will contribute to industrial development and job creation on the island, will help reduce the surplus of fresh milk currently experienced by the island's livestock sector and will promote the possible export of the product in the near future.
"We are very pleased with the construction of the new VIDA plant. This plant demonstrates the commitment that Grupo Gloria has with Puerto Rico, its people and the economic development of the island, because we are sure that the economy will move forward," said Jorge Rodríguez, executive president of Grupo Gloria, which owns the Suiza Dairy operation.
Construction of the plant that houses new technology began in 2016 and will begin operating in July, producing extended-life milk, lactose-free milk and Essential milk with calcium in different packages.
"This plant is the first to use innovative technology in the production of specialized milks, which have gained much acceptance in recent years among the Puerto Rican consumer," he said.
"It is by responding to those needs that we decided to make this investment to expand our locally manufactured line of products," he said.
With this operation, 30 direct jobs are generated and will help to maintain more than 750 current jobs.
The opening ceremony drew participation from the government, headed by Gov. Ricardo Rosselló, Economic Development and Commerce Secretary Manuel Laboy and Agriculture Secretary Carlos Alberto Flores.
Francisco Pérez Corujo, general manager of Suiza Dairy, added "today is a great day for all of us who work in Suiza Dairy. This plant is inaugurated featuring totally innovative technology, unique in its class, which will allow us to elaborate extended-life milk using the local product, from Puerto Rican farmers, which is good news, not only for us, but also for Puerto Rico's livestock sector."
The extended-life milks to be produced at the VIDA plant will be available in the local market this summer.