Walmart inaugurates $38M supercenter in Hatillo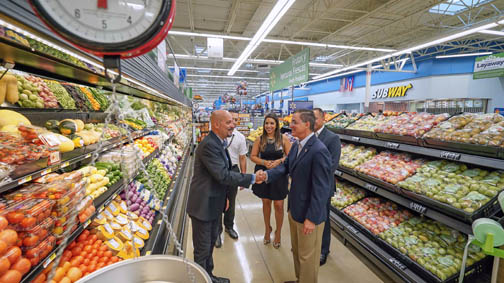 With an investment of $38 million and the creation of 256 new jobs, Walmart inaugurated Wednesday a new Supercenter in Hatillo, through which it hopes to positively impact the commercial activity of the island's northwest area and economic development as a whole.
Iván Báez, Walmart Puerto Rico's corporate affairs director said the new store located in Plaza del Mar Shopping Center is a relocation and conversion of the general merchandise store concept known as Division 1 to a Supercenter, which combines general merchandise and supermarket.
"Through this new Walmart Supercenter we will not only be able to offer quality merchandise at low prices so that more Puerto Rican families can save more and live better, but it will allow us to continue expanding our firm support to local suppliers through the sale of locally harvested agricultural products and locally manufactured goods" said Báez, adding the Hatillo location is the chain's first Puerto Rico store equipped with LED lighting technology throughout the sales floor.
The 153,000 square-foot store, which offers parking for more than 760 vehicles, integrates specialized services areas, such as the Walmart MoneyCenter, an ATM, and concessionaires, such as La Frutera, Gaby Mini Donuts, 5àSec, Subway, Claro Internet, DirecTV, PointGuard Insurance, AT & T Wireless, Claro Wireless, Redbox and Coinstar.