USPS includes 'La Cueva del Indio' in '16 stamp lineup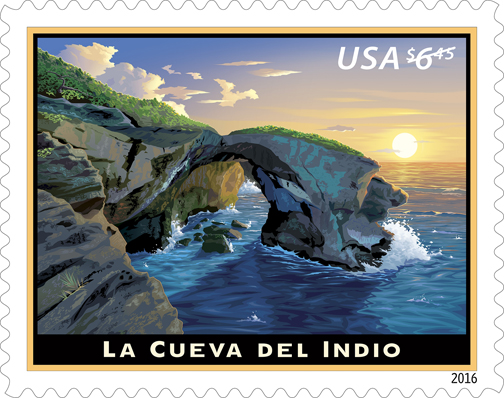 A depiction of Puerto Rico's La Cueva del Indio in Arecibo will be included in the U.S. Postal Service's 2016 stamp program that also comprises Star Trek, NASA's New Horizons and Shirley Temple among the topics to be highlighted this year, the agency announced Wednesday.
The stamp depicts a sunset view of La Cueva del Indio in Arecibo, a cave that gets its name from the great number of engravings, known as petroglyphs, found on the walls. Illustrator Dan Cosgrove worked under the art direction of Greg Breeding, the federal agency said.
"Our stamps articulate the American experience through miniature works of art," said Acting Stamp Services Director Mary-Anne Penner. "Our diverse stamp topics for 2016 are sure to appeal to everyone, and with the New Year just around the corner, now is a perfect time to get started in stamp collecting. It's an educational hobby the entire family can enjoy."
The release date of the Cueva del Indio stamp, which the USPS predicted will "expire quickly" will be announced at a later date.