Internet usage in Puerto Rico increases to 91%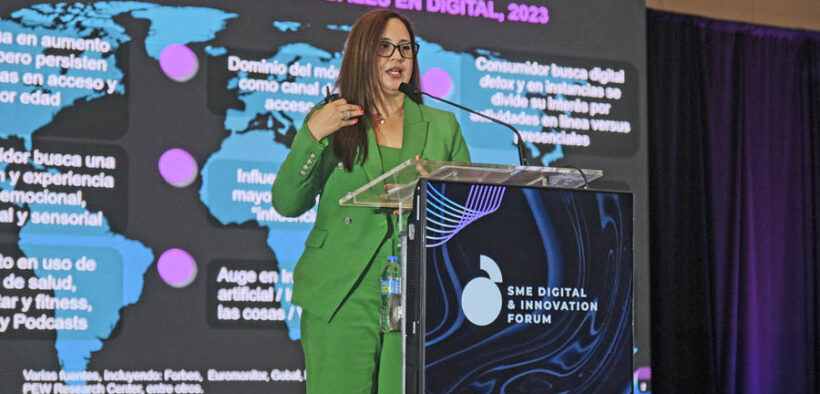 With 91% of Puerto Rico's population now using the internet daily, smartphones continue to be the preferred device for users to connect, according to the 2023 Puerto Rico Digital Trends Study.
The Puerto Rico Sales and Marketing Executives Association (SME) presented the results at its Digital Forum, which took place at the Puerto Rico Convention Center.
While there is a 3% increase in internet connectivity compared to last year, residential internet connections have shrunk by 8%, arguably related to household incomes. Perhaps surprisingly, data point to the age groups 55+ being responsible for the island's overall internet connectivity growth. (The 55 to 64 and 65+ groups grew by 5% each compared to last year.) Ninety-six percent of the population has a smartphone; 60% are Android users, while the remaining 40% own an iPhone.
Notably, there was a significant increase in the percentage of people who connect to the internet through their Smart TVs, which grew 8%, from 31% last year to 39% this year. Other survey participants said they connect mostly through their computers (29%), tablets (28%), game consoles (14%, and by the way a growing trend), smartwatches (7%) and handheld electronic games (7%).
As more people surf the web to perform daily tasks and find entertainment, cybersecurity concerns also rose among survey respondents. Seven out of 10 expressed strong to mild concerns about the online safety of their data. In fact, 19.4% admitted to having fallen victims to identity theft or unauthorized use of their information.
What are they doing about it? Sixty-eight percent of respondents said they are now using more robust passwords, 34.3% said they do not share personal information online, 20.3% use a pattern to unlock their smartphones, while 12.7% use fingerprint or face recognition to connect, and 9.5% back up their information.
"When we surveyed about the use of cellphones, 70.9% said that they always prefer to use an application when browsing the internet from their mobile [device], whether to see social networks (62.7%), watch videos (61.2%) or stay up to date with news and information (32.4%). Similarly, the apps they have include messaging or chats, social networks, music or audio and video such as Facebook, Instagram and WhatsApp — the latter being the app that showed the highest growth in 2023 (58.6%) compared to 2022 (47.6%)," Anitza Cox, the director of analysis and social policy at the Puerto Rico-based economic consulting firm Estudios Técnicos, said during her presentation at the SME Digital & Innovation Forum.
How much time are people spending online and what are they doing?
Survey participants spend, on average, nearly five hours daily connected to social media and messaging platforms. When viewed by age group, the 18 to 24 bracket spends close to seven hours of their day connected, followed by the 25 to 34 group with 5.8 connected hours, the 12 to 17 age group connected for 5.4 hours, those 35 to 40 connected for 5.2 hours, and the 50+ group for 3.6 hours daily. Their favorites? Facebook (50%), WhatsApp (48%), YouTube (27.3%) and Instagram (27.2%).
Collectively, we go online mainly to watch videos (69.2%), access social media (63.7%), and stream music (62.4%). We also do a lot of chatting using messaging apps (52.3%) and search for information (46%, "Hey Google!"), get our daily dose of news (43.2%), play online videogames (30.2%), bank online (28.4%), stream TV shows and movies (27.3%), learn (23.3%), meet (19.8%), and read online (18.3%).
The 10 most visited websites cited by the study were:
Google (22.1%)
Facebook (9.8%)
YouTube (7.6%)
WhatsApp (4.9%)
Instagram (4.1%)
Amazon (2.2%)
Endi.com (2%)
Shein (2%)
LUMA (1.8%)
Gmail (1.7%)
For music streaming, 38.6% prefer Spotify, 30.3% prefer YouTube, and 26.2% prefer Pandora. When streaming video, YouTube continues to reign with a comfortable 94.3%, while 53.1% go to Facebook and 52.5% watch Netflix.
It's worth noting that almost the exact same percentage of survey participants spend a significant amount of their week on social media and watching traditional TV (66.9% and 66.5%, respectively), which suggests that these activities are often done simultaneously.
In the survey, 21.7% of respondents said they spend a good amount of weekly time to consuming digital news, versus 15.7% who read newspapers. When asked which digital media outlet they go for news, 2.8% of those surveyed mentioned News is My Business as their source.
Technologies and trends to watch
A technology whose adoption continues rising is podcasts (17.4% this year versus 16.7% last year). The favorite platforms to consume podcasts are YouTube (59.5%) and Spotify (26.6%).
E-commerce and social media usage continues increasing, and influencers are bridging the gap between these two, impacting purchasing decisions through their published content.
ChatGPT, featured for the first time this year as it is a new technology, is a name quickly recognized by 6.6% of those surveyed. Interestingly, 38.3% of respondents said they have already used it, mainly for academic purposes.
Overall, respondents said they are looking for a more emotional connection in their digital experiences, which is something every brand should take into consideration to elevate their user experience game.
This is a summary of the most relevant findings of the Digital Trends Study, commissioned by SME to Estudios Técnicos, which has measured trends in digital media and behaviors of internet users among people 12+ years old on the island for the past 18 years.
This year's edition included an expanded sample of 1,000 people, representative of the Puerto Rican population. The study was carried out between April and May through personal surveys in households on the island, representative of the population of Puerto Rico by age, gender, income level and region.