Gustos Coffee Co. invests $1M to expand retail presence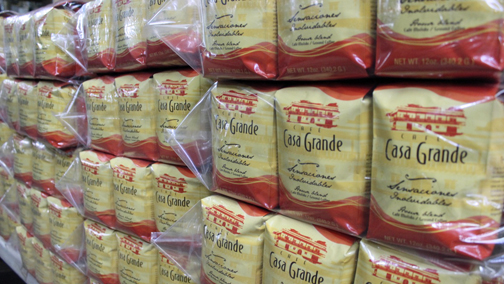 Gustos Coffee Co., producers of the Casa Grande brand of Puerto Rican-grown 100 percent Arabica coffee, is getting ready to expand its presence in the island's retail market by investing $1 million in its operation to meet growing local demand for its aromatic home-grown java.
Established in May 1999, Gustos Coffee is a specialty coffee roaster that owns and supplies coffee vending machines stocked with high-quality blends to serve in stores, hospitals, and office buildings islandwide.
Gustos Coffee Co. has been gaining momentum during the past three years, when in 2011, the company broke into retail through an agreement with distributor Ballester Hermanos Inc. to produce an exclusive coffee blend called Casa Grande Premium packaged in 8-ounce bags for SuperMax Supermarkets.
Late last year, Gustos Coffee introduced its Casa Grande brand at Ralph's Food Warehouse supermarkets along the island's eastern coast. On the west coast, coffee lovers are able to buy the brand at Selectos supermarkets.
This week, Gustos will begin selling its house blend coffee at Walgreens, in 12-ounce bags featuring a new orange and yellow packaging, company officials said Monday.
By stocking its product on the drugstore chain's shelves, Gustos is strengthening a relationship that began in 2006, when it became the supplier and service provider for the retailer's "W Cafes" coffee dispensers islandwide.
The next step for the Casa Grande coffee brand is to break into Wal-Mart delis and land on the shelves of grocer Hatillo Cash & Carry, said Daniel Omar Torres, owner and president of Gustos Coffee Co.
"We're extremely happy to introduce our Casa Grande brand in important companies like Walgreens, Ralph's Food Warehouse and Wal-Mart," he said. "Soon, all coffee drinkers as well as our clients will be able to buy Casa Grande and take it home or simply enjoy a cup of coffee at the Wal-Mart delis."
To supply the demand of these mega stores and comply with expectations of distributing 200,000 pounds of coffee in the first year, Torres said Gustos Coffee Co. has invested close to $1 million to buy a new roaster, packaging equipment, automated system for coffee transport to a storage silo, a dry coffee processing unit and a new warehouse/office in Ponce, among other additions.
Due to its rapid growth, in December, Gustos Coffee Co. moved its central office, warehouse, roasting plant and packaging operation for its three brands — Casa Grande, Gustos Premium and Aromas de Jaicoa — to a larger 12,000 square-foot facility in the Puerto Nuevo sector of San Juan.
In this new location, the company also repairs its vending machines and espresso coffee machines and has a showroom as well as a small bohemian coffee shop where customers can visit to drink a cup of Joe and order a variety of gourmet delicacies.
"The popularity of our new coffee shop surpassed our expectation because it originally began as a showroom and we did not think there would be as much customer flow due to its location inside the Matadero Industrial Park but we were wrong," said Torres. "The business began with one barista and a kitchen employee and now we have seven employees working the coffee shop and due to its popularity we have plans on opening a second shop in San Juan."
Currently, Gustos Coffee Co. is moving its warehouse and office in Ponce to a larger 12,000 square-foot facility, he said.
Gustos Coffee Co. has 52 employees including 16 drivers who are in charge of delivering to its 2,000 clients. Company services include providing coffee vending machines to hospitals and other businesses, coffee break machines for offices, sale of Rancilio espresso coffee machines for restaurants, cafeterias, bakeries, coffee shops and hotels.
The Gustos coffee brand is sold at the Luis Muñoz Marin International Airport shops, so visitors to Puerto Rico can take a bag of premium coffee home. Since 2003, Gustos Coffee Co. has supplied coffee vending machines to International Meal Corp, formerly known as Empresas Santana, for the airport shops in San Juan.