Ben & Jerry's brings sense of community to San Juan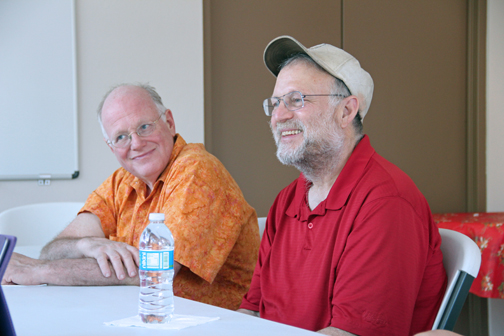 When you think about Ben & Jerry's, the first thing that probably pops into your head is the seemingly endless variety of the company's luscious, premium ice cream and their tongue-in-cheek names.
But recently, employees of the Vermont-based chain traded their ice scream scoops for picks, shovels, rollers and hoses to spruce up the Casa Manuel Fernández Juncos boys shelter in Miramar, as part of the company's longstanding community outreach program that covers all of the places it does business.
That day, about 250 franchisees and their families rolled up their sleeves to take part in the project that kicked off their annual convention at the Caribe Hilton Hotel. Also present — company co-founders Ben Cohen and Jerry Greenfield, and CEO Jostein Solheim, who usually go to every convention, but agreed there's more to Puerto Rico than a robust ice cream market.
"We have a really great franchise here. Our franchisee has done a great job. But it's also nice to be in a real community, meeting people, learning something. Puerto Rico is a great place to do that," said Solheim, during an exclusive interview with this media outlet.
For his part, Cohen — who pretty much created the company's signature flavors like "Chunky Monkey" and "Cherry García" — acknowledged that they go to every convention and were in town to check out the progress at the Casa Manuel Fernández Juncos.
"Jerry and I are here to support the company's social mission. These projects involve the idea of the business philosophy of integrating the social concern into as many day-to-day activities as possible," said Cohen.
This media outlet learned that Ben & Jerry's donated about $11,000 to the nonprofit boys shelter, which got a fresh coat of paint, new landscaping and a thorough cleaning inside and out.
"Our franchisees are all independent shop owners who were attracted to Ben and Jerry's because the ice cream and our business philosophy," said Greenfield. "The huge majority is committed to the company's vision. In fact, the highlight of our annual franchisee meeting is the community project."
The Ben & Jerry's franchisee convention pumped more than $433,000 into the economy during a full week of activities. The Caribe Hilton hotel reported 765 room night reservations, according to data provided by Meet Puerto Rico (formerly known as the Puerto Rico Convention Bureau.)
A community connection
But how did the multi-million chain owned by Unilever decide to take the shelter under its wing? As it turns out, the relationship between the ice cream maker and the nonprofit began about a year ago, through a connection established with Puerto Rico franchisee Celí Williams.
Williams, who owns three shops in the San Juan metro area — in Old San Juan, Condado and Guaynabo — donated $500 to the Casa Manuel Fernández Juncos from another annual community event, the chain's "Free ice cream cone day," held each year on Ben & Jerry's anniversary.
While the cones are free, customers are encouraged to make a donation that goes straight to the selected organization. On top of cutting that check, Williams has also been delivering birthday cakes to shelter residents to celebrate every month.
Plans for local Ben & Jerry chain
During a separate interview, Williams conceded that she's looking into the possibility of expanding her footprint. Under consideration are the Isla Verde sector of Carolina, and the towns of Caguas and Dorado.
"We're very cautious and we have a very clear vision of what we want to do and see happen in Puerto Rico, and that's how we'll move forward when looking for future locations," said Williams, who stepped into her role as Ben & Jerry's franchisee 13 years ago.
So far, the local chain has generated about 70 jobs, but could potentially create more as the business expands, she said.
"Part of the process is considering the location. This is not about opening a bunch of stores, but rather opening shops in special locations where we can turn our concept into a destination," said Williams, who works closely with daughter Michelle Campi in running the operation.
While her three locations usually have lines out the door, the truth — she said — is that generally speaking, "things are challenging."
"We've been evolving with the market, over the years and in the face of changes," she said, especially considering the fast-paced proliferation of frozen yogurt shops throughout Puerto Rico in recent years.
"Our ice cream is more expensive than most, but we like to say that we provide good value because aside from selling artisanal ice cream, Ben & Jerry's is a socially conscious company," she said.
"But to address the frozen yogurt trend, we've integrated fruit and combined Ben & Jerry's greek frozen yogurt with healthy toppings that our customers are ordering for breakfast, which means sales start at 9 a.m," she said. "We're thankful to Ben & Jerry's for allowing us to be creative to address this market when things have gotten challenging."